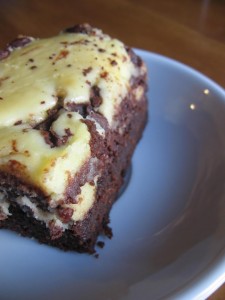 Warning: I think these brownies could possibly give you a heart attack. That being said, they are basically amazing and we ate more than we should! And it would certainly be a sweet way to go!
This week's recipe from the Sweet Melissa Baking Book had a crazy list of ingredients: a full dozen eggs, 2 bricks of cream cheese, 2 sticks of butter, over 3 cups of sugar, unsweetened chocolate plus and entire bag of chocolate chips, etc, etc. Insanity! All of this only adds up to badness if you cut the finished brownies into 12 enormous servings, as suggested by the book. I went, instead, for 32 servings (4 rows, 8 columns). Given the fact that these brownies are very rich, and the fact that they are really tall, they actually turned out to be the perfect size.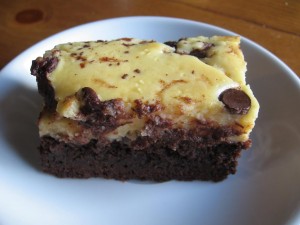 They were a huge hit with everyone who ate one, and I will definitely be making them again. I'll just stick to my 32 servings! Thanks to Cynthia for choosing this installment of fantastic recipes from the Sweet Melissa Baking Book. You can find the recipe on her blog, the Bakingtherapist's Blog. Thanks Cynthia!