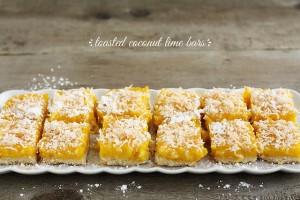 Happy St. Patrick's Day, World! I hope you're all wearing green and eating delicious food today! When I started planning out what recipes I wanted to post this month, I thought it would be fun to make all of the foods green. But in light of the fact that only one recipe from the entire month of March thus far has been green, I'm not doing a very good job of sticking to my plan!
I had the idea for lime bars knowing full well that they wouldn't be very green without the help of food coloring, and I just didn't want to go that route. I knew what color they would be without the food coloring, and it's just too gorgeous a color to mess with. Thanks to farm-fresh eggs, I give you lime bars that, instead of being green, are the most stunning, vibrant shade of deep marigold. These bars are so sunny, they practically glow! The beautiful color really matches the tart, sunshiny flavor of these little gems. And these particular lime bars are made extra-special by a tasty topping of toasted coconut. So I can't give you a green dessert today, but I can give you fair warning that if you make these toasted coconut lime bars, you might end up eating half the pan. Quite happily.

Toasted Coconut Lime Bars
adapted from the America's Test Kitchen Family Cookbook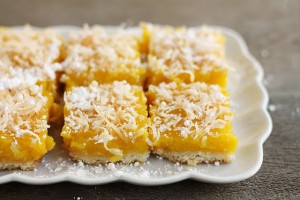 1 cup flour
1 cup sweetened coconut flakes, divided (Really pack it in when you measure it.)
1/3 cup powdered sugar, plus extra for sprinkling
salt
12 Tablespoons unsalted butter, cut into 12 equal pieces and softened
7 large egg yolks
2 large eggs
1 cup plus 2 Tablespoons sugar
2/3 cup fresh lime juice (about 6 limes)
1/4 cup lime zest (Zest your limes before you try to juice them.)
3 Tablespoons heavy cream
Preheat oven to 350°F. Line an 8- or 9-inch square pan with foil, leaving enough hanging over the sides that you'll be able to lift the lime bars out using it. Spray the foil with nonstick spray, and set aside. In a food processor or stand mixer, combine flour, 1/2 cup coconut flakes, powdered sugar and 1/2 teaspoon salt, then add 8 Tablespoons of softened butter. Blend just until mixture gets sandy. Press firmly into the bottom of the prepared pan, and bake until golden, about 20 minutes. While the curst is baking, place the remaining 1/2 cup coconut flakes in a small baking dish, and bake until toasted, 15-20 minutes. Meanwhile, combine egg yolks and whole eggs in a nonreactive saucepan. Whisk in sugar, then lime juice, zest, and a pinch of salt. Add remaining 4 Tablespoon butter and cook over medium-low heat until mixture thickens and heats to a temperature of 170°F. Strain mixture through a fine-mesh sieve into a nonreactive bowl and stir in cream. Pour warm lime curd over hot crust. Bake until curd is set and jiggles only slightly, 10 to 15 minutes. Sprinkle toasted coconut evenly over the bars as soon as they come out of the oven. Let cool completely on a wire rack before removing from pan and cutting. Serve dusted with powdered sugar. Makes 16 bars.