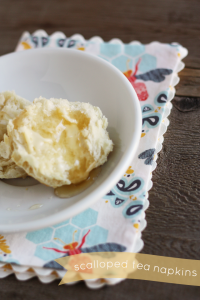 I have a really lovely project to share with you guys today. Bonnie Forkner, author of the super popular, super lovely blog Going Home to Roost, just launched a stunning line of fabric called Sweet As Honey, and I'm excited to be part of the blog tour. 25 bloggers are creating and presenting 25 different projects made with fabric from the Sweet As Honey line throughout the month of March, and today's my day!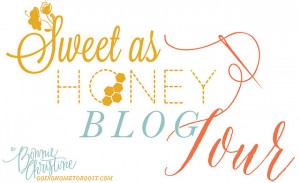 Inspired by nature, all of the prints in the Sweet As Honey line have beautiful woodland elements–deer, wildflowers, bees–and fresh, vibrant colors like coral, sky blue, and yellow. They're tailor-made for spring and summer sewing projects. I decided to use my fabric to make dainty tea napkins with sweetly scalloped edges. With the weather getting warm and sunny and flowers blooming left and right, I've got fanciful tea parties on the brain, and these darling napkins would fit so beautifully on a garden tea table!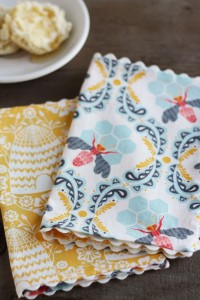 2 fat quarters of fabric (You can use the same fabric for both sides of the napkins, or coordinating prints like I did.)
2 packages medium ric rac, about 5 yards total
fabric scissors
sewing pins
rotary cutter
cutting mat
sewing ruler
sewing machine
knitting needle or turning tool
iron
ironing board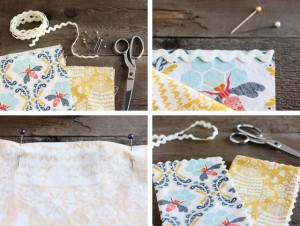 1. Wash, dry, and iron the fabric. It almost pains me to wash brand new fabric because it goes from being so smooth and shiny to looking not-so-nice, but since these will be napkins and they'll have to get washed occasionally, better wash that fabric first!
2. Lay the two fat quarters out on the cutting mat, right sides together, and line up the edges as best you can. Chances are they won't match exactly, and that's ok. Just try to arrange them so you have to trim as little as possible.
3. Chances are the fat quarters also won't be perfect rectangles. Find the straightest edge of your fabric sandwich and use it as a guide to carefully trim the other three sides to make a perfect rectangle.
4. Cut the fabric sandwich exactly in half length-wise and exactly in half width-wise. You should now have four matching fabric sandwiches.
5. Ok, there are various methods for attaching the ric rac, and after doing a little experimentation and getting a little frustrated, I'm giving you my favorite. If you do ric rac a different way, by all means! Cut four pieces of ric rac to match the four edges of your fabric sandwich.
6. Take the top piece of your fabric sandwich off and set it aside. Lay one piece of ric rac on the corresponding edge of the fabric you still have sitting there. The ric rac should lay completely on top of the fabric with the edges of the bumps lined up with the edge of the fabric. They shouldn't hang over or not go quite far enough. Line them up as exactly as you can. Also worth noting: the fabric is right side up at this point. You are literally just placing the ric rac on top of the fabric. Repeat with the other three pieces of ric rac.
7. Now take the other piece of fabric (the one you set aside earlier) and lay it face down on top of the fabric and ric rac. All of the edges should match up perfectly, and the two pieces of fabric should have their right sides together.
8. Pin the fabric/ric rac sandwich together, making sure the pins are going through the ric rac too.
9. Sew the sandwich together using a 1/4″ seam allowance. Start in the middle of a side, not close to a corner, and leave a 3″ gap.
10. Trim the corners, turn the napkin right side out, and use a knitting needle or turning tool to make the corner nice and pointy.
11. Press the napkin so it is nice and smooth. Be sure to fold and press the fabric at the gap so that it matches the rest of the seam on that side.
12. Use a hand needle and thread to carefully close the gap in the seam.
13. Repeat steps 5-12 for the remaining three napkins.
Be sure to check out all of the Sweet As Honey blog tour projects! Yesterday's lovely project, a grown-up, modern take on paint-by-number, was designed by talented artist and good friend, Emily Jeffords. And be sure to stop by Nancy's gorgeous blog, Owen's Olivia, to see what fun project she has in store tomorrow!