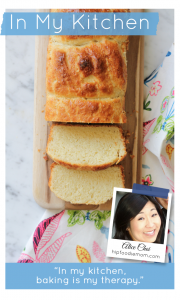 "I used to be afraid of yeast, but now that I have conquered my fears, there's no holding me back. I love retreating to my kitchen to whip up sweet and fabulous treats. From breads to cakes or tarts, I love playing around with ingredients in fun and unexpected ways, like this poached pear bread or these olive oil and thyme mini bundts. I love that flour, eggs, sugar and butter can almost always transform into something beautiful and delicious.
– – – – –
Alice is a wife, mother of two girls, recipe developer, food blogger, baker, and just a big foodie in general. Alice started Hip Foodie Mom as a way to share her love for food with everyone in hopes of getting more people into their kitchens and cooking. She cooks with fresh, local ingredients and loves to experiment with new foods and vegetables. Alice is a regular contributor to KitchenAid's blog, The Kitchenthusiast and will soon be doing recipe development for The Kitchn.
Follow Alice at:
I met Alice at a Pacific Northwest Blogger party a few years ago when she still lived here on the west coast. It was my first blogger social event ever, and I didn't know a soul and was very nervous . I overheard Alice tell someone that she was a food blogger, so I tracked her down and made her chat with me for the rest of the party!