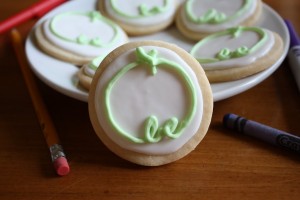 I have always loved sugar cookies because I grew up with such superior ones. I'm sure everyone thinks the same thing, but I really do think my mom's sugar cookie recipe is the best one out there. They are tender, pillowy, sweet…but they don't hold their shape very well. I've always been under the impression that as far as sugar cookies go, you can't have it both ways. You either get delicious cookies, or cookies that hold their shape. Never both. And the frosting is the same way: you can have delicious frosting that is a bit on the free-form side, or really attractive, detailed frosting that doesn't taste very good. So imagine my amazement when I ate one of my beautifully (sort of) decorated Daring Bakers sugar cookies and found that it was (gasp!) quite delicious!
Our school district held a huge talent show/bake sale fundraiser last week, and I donated cupcakes and fancy-pants sugar cookies decorated with the school district logo. I've always been hesitant to use royal icing because I've heard it doesn't taste that great. But it was darn OK, if you ask me, and it really did make for lovely cookies. And people actually called to tell me how fantastic they thought the cookies were. A friend even told me she kept going back for more sugar cookies!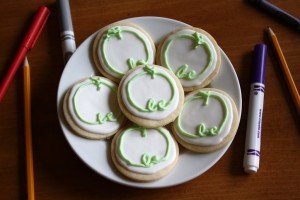 The September 2010 Daring Bakers' challenge was hosted by Mandy of "What the Fruitcake?!" Mandy challenged everyone to make Decorated Sugar Cookies based on recipes from Peggy Porschen and The Joy of Baking.
Basic Sugar Cookies
makes approximately 3 dozen 4″ cookies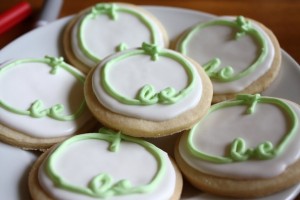 ½ cup + 6 Tbsp Unsalted Butter, at room temperature
3 cups + 3 Tbsp All Purpose Flour
1 cup Superfine Sugar
1 Large Egg, lightly beaten
1 tsp Vanilla Extract
Cream together the butter, sugar and any flavorings you're using. Beat until just becoming
creamy in texture. Beat in the egg until well combined, make sure to scrape down the sides of the bowl. Add the sifted flour and mix on low until a non sticky dough forms. Knead into a ball and divide into 2 or 3 pieces. Roll out each portion between parchment paper to a thickness of about 1/5 inch. Refrigerate for a minimum of 30 minutes. Once chilled, peel off parchment and place dough on a lightly floured surface. Cut out shapes with cookie cutters or a sharp knife. Arrange shapes on parchment lined baking sheets and refrigerate for another 30mins to an hour. Re-roll scraps and follow the above process until all scraps are used up. Preheat oven to 350°F. Bake until golden around the edges, about 8-15mins depending on the size of the cookies. Leave to cool on cooling racks. Once completely cooled, decorate as desired.
Royal Icing
2½ – 3 cups powdered sugar, unsifted
2 large egg whites
2 tsp lemon juice
Beat egg whites with lemon juice until combined. Sift the icing sugar to remove lumps and add it to the egg whites. Beat on low until combined and smooth. Use immediately or keep in an airtight container. **The smaller amount of powdered sugar makes an icing that is good for flooding (filling in), while the larger amount makes an icing that is good for outlining. Use even more powdered sugar for writing.**