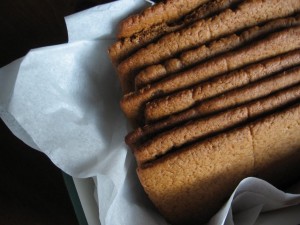 The January 2010 Daring Bakers' challenge was hosted by Lauren of Celiac Teen. Lauren chose Gluten-Free Graham Wafers and Nanaimo Bars as the challenge for the month. The sources she based her recipe on are 101 Cookbooks and www.nanaimo.ca.
This month's Daring Bakers Challenge actually had two parts: homemade graham crackers and nanaimo bars. Nanaimo bars hail from Canada and are incredibly delicious. I've eaten them before, and have even made them before. I just didn't get around to making them this time. But I did make the graham crackers, and they were amazing! I chose to go ahead and use the original recipe from 101 Cookbooks instead of the gluten-free version, partly because of laziness and partly because of the dwindling amount of cash in my "Grocery" money jar.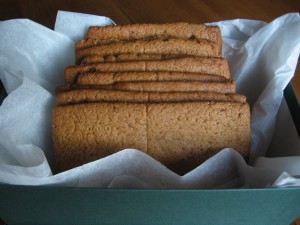 The use of the food processor in making the dough made the whole process pretty simple. There were a few steps that involved chilling, some rolling, and presto!–delicious, crispy homemade graham crackers. While baking, they filled the house with such an amazing scent that I actually pounced on the pan as soon as they came out of the oven and ate one cracker hot. I literally had to blow on it too cool it down enough to pop into my mouth. It was fantastic. The convenience of store-bought graham crackers is, well, down-right convenient, so I don't know that I'll start making my own graham crackers all the time, but they would definitely make a delicious now-and-then treat.
For the recipe, visit 101 Cookbooks, a truly inspiring food blog.