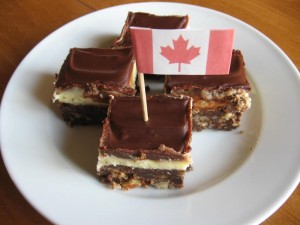 When I was growing up, the leader in charge of 11 and 12-year-old girls at church was a wonderful woman named Cheryl. I remember lots of fun parties at her house during the summer, most of which were luaus. We made leis out of oleander flowers (which are EXTREMELY poisonous; it gave my mom fits!) from the hedges near her pool, drank some kind of delicious pineapple punch out of hollowed-out pineapples, swam, and generally had a blast. I was debating a few months ago which delicious recipe of hers I would make that weekend, and decided to do a little series highlighting the wonderful goodies my sisters and I grew up eating courtesy of Cheryl.
In our first installment, we have Nanaimo Bars (pronounced nuh-NY-mo), named for the city in British Columbia where they were created. You can find a million recipes for these, but they are all very similar. They are a cross between a bar cookie and candy. Super rich, super delicious. So very, very yummy. You'll be tempted to eat several because of their tiny size but you'll get a tummy ache!
Nanaimo Bars
from Cheryl Poulsen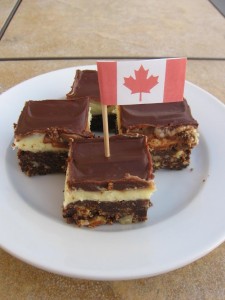 crust:
1/2 cup butter
5 Tablespoons cocoa powder
1/4 cup granulated sugar
1 teaspoon vanilla
1 beaten egg
1 2/3 cups finely ground graham cracker crumbs
1 cup coconut, toasted
1/2 cup chopped walnuts or pecans (I used pecans)
Combine butter, cocoa, and sugar in the top of a double boiler and cook gently until it starts to bubble; remove from heat and allow to cool slightly. Add vanilla and egg and stir. In a separate bowl, combine remaining ingredients. Add crumb mixture to chocolate mixture and press into the bottom of a 8×8 square pan. Set aside.
filling:
2 cups powdered sugar
1/2 cup butter, softened
2 Tablespoons instant vanilla pudding powder
1/4 cup milk
Beat ingredients until well-combined. Spread over cooled crust. Cover and chill.
topping:
4 ounces chocolate, half semisweet and half bitter, or whatever combination you like
1 Tablespoon butter
Heat ingredients in the top of a double boiler and stir until chocolate and butter are melted. Pour over chilled bars and let cool. Before topping hardens, score top gently. I did 6 rows and 4 columns to get 24 little bars. Allow to cool completely. Cut with a very sharp knife so as not to crack the chocolate.