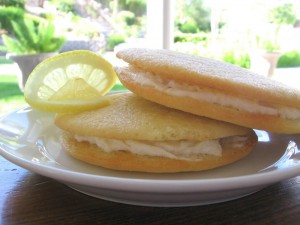 First, let's get this give-away out of the way. One of my sisters and I have an Etsy store, Max and Ellie, selling baby and toddler items we've made. We've got appliqued onesies and t-shirts, carseat blankets, crayon kits, tiny first-aid kits, and children's aprons. And we're giving away one of our adorable aprons as part of Sew Mama Sew's May Giveaway Day. Click here to see how to enter!


Now, what you all came for: the food! My sister made the most delicious raspberry ice cream for us the other night–I'll have to post her recipe sometime–and I really wanted homemade cookies to go with it. Lemon cookies sounded like a good fit, but we are a picky family when it comes to dessert. A) We generally prefer soft, chewy cookies, and most lemon cookie recipes I can think of are for tea cookies or shortbread or some other crispy little cookie. B) I have at least one sister who will not eat anything that has sour cream or cream cheese in it, even if you swear you can't taste it, so that cut out lots of soft lemon cookie recipes and cream cheese frosting.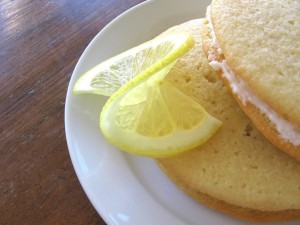 Then I found not one, not two, but dozens of blogs that tried and loved Lemon Whoopie Pies from Big Fat Cookies by Elinor Klivans, and they fit my criteria! I did have to switch out the frosting since the original recipe calls for the dreaded cream cheese, but they were a huge hit! Everyone loved them and they were gone by breakfast!
Lemon Cream Sandwich Cookies
based on Lemon Whoopie Pies from Big Fat Cookies by Elinor Klivans
When I make these again, I will probably make the cookies a little smaller. As you can see from the pictures, they were the size of saucers!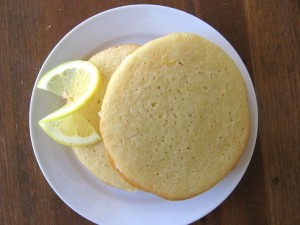 cookies:
1 1/2 cups flour
1/2 teaspoon baking powder
1/4 teaspoon baking soda
1/4 teaspoon salt
6 Tablespoons unsalted butter, at room temperature
1 cup sugar
1 teaspoon lemon zest
1 egg
1 Tablespoon fresh lemon juice
1 teaspoon vanilla
1/2 cup buttermilk
Position a rack in the middle of your oven and preheat it to 350 degrees. Line your baking sheets with parchment paper. The original recipe says to butter the parchment, but that gets kind of messy, and I thought I got better-looking results when I stopped buttering the parchment. I had no problems with the cookies sticking to unbuttered parchment paper.
Combine flour, baking powder, baking soda, and salt in a medium bowl and set aside. In a large bowl, beat butter, sugar, and lemon zest on medium speed until smooth, about 1 minute. Add egg, lemon juice, and vanilla, mixing until blended. Reduce speed to low and add half of the flour mixture. Mix just until blended, then add buttermilk. Add remaining flour mixture and mix until smooth. Drop dough by heaping Tablespoons onto prepared cookie sheets, spacing dough about 3 inches apart. These cookies spread a lot, so you should only have 6-8 cookies per sheet. Bake cookies for about 12 minutes, until the tops feel firm and there is a thin brown line just around the edge of each cookie. Allow cookies to cool on pan for 10 minutes before removing them to a cooling rack.
frosting:
1 lb powdered sugar
juice of half a lemon plus milk to equal 1/4 cup
1 teaspoon vanilla
1/3 cup butter, softened
1 teaspoon lemon zest
1/4 teaspoon salt
Combine all ingredients in a bowl and beat until smooth. If the frosting is too thick, you can add more milk, but I found it to be the perfect consistency for filling these cookies. I might have added more than just 1 teaspoon of lemon zest; you can certainly add the zest to taste. To assemble the cookies, simply spread the desired amount of frosting on the bottom of half of the cooled cookies, then top with another cookie to create a sandwich. Tada!