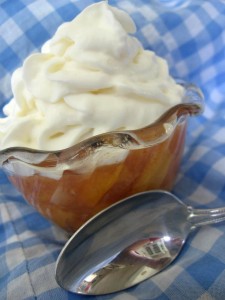 This week's SMS recipe was chosen byAndrea of Nummy Kitchen. You can find the full recipe on her blog!
I love peach cobbler. In high school, I used to order it for lunch in the cafeteria at least once a week (and no, I wasn't a fatty in high school). I loved it, and it was cafeteria cobbler, so it probably wasn't of the highest quality (no offense to Clark High School!). Bear's Peach Cobbler from the Sweet Melissa Baking Book is very good. It didn't curl my toes or anything, but it was easy and tasty. Tasty enough, in fact, that I only managed to save a tiny amount to take pictures of the next morning! That's why you only see 1 square inch of biscuit poking out of the whipped cream in the picture below. There isn't any biscuit hiding under the whipped cream!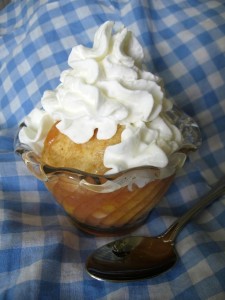 Click here to see how the other Sweet Melissa blogger/bakers fared this week! Up next: a big surprise! Even I don't know what it'll be!!