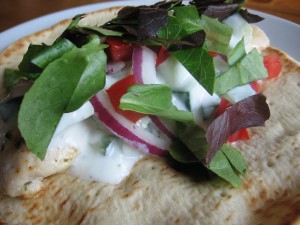 I grew up in Las Vegas and spent many a vacation driving that long, ugly stretch of I-15 between Las Vegas and LA. For some reason, somewhere along the way, I got the idea that I wanted a chicken gyro from The Mad Greek in Baker, CA. Probably because we never did make that stop, I built chicken gyros up in my mind until they reached a crazy, manna-like status. I finally had one from a food-court Greek place at the mall in college, and I was right: they are delicious!
I found this particular recipe on Recipezaar and liked it enough to stop looking any further. The marinade is ridiculously easy to throw together, and the chicken turns out flavorful and moist. The real star of the show, the tzatziki, is delicious and refreshing–perfect for summer. I have a tendency to really heap it on my gyro so that everything is practically drowning in sauce. Last time I made it, I doubled the recipe and ate the leftovers with pita chips for several days after. Those were good days!
Chicken Gyros and Tzatziki
from Recipezaar here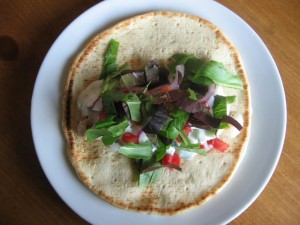 for the chicken:
1/2 cup fresh lemon juice
1/4 cup olive oil
1 teaspoon minced garlic
1 teaspoon ground mustard
1 teaspoon dried oregano
1 lb boneless skinless chicken breast tenders
Combine all ingredients in a gallon-sized ziplock bag, seal, and turn gently to evenly distribute marinade. Refrigerate for at least one hour. Remove chicken from bag and discard marinade. Saute chicken in a large non-stick skillet for 7-8 minutes or until cooked through.
for the tzatziki:
1 cup chopped cucumber (I used a hot-house cucumber because they don't need to be peeled, and the dark green looks pretty in the sauce)
2/3 cup low-fat plain yogurt (I would love to use Greek yogurt, but my regular grocery store doesn't carry it)
3/8 teaspoon dried dill weed
1/2 teaspoon minced garlic
a pinch of kosher salt
Combine all ingredients in a small bowl, cover, and chill until needed.
to assemble:
Place chicken on warm pieces of flatbread. Top with tzatziki, shredded lettuce, chopped tomato, and thinly sliced red onion. Roll (if your flatbread doesn't tear!) and eat.