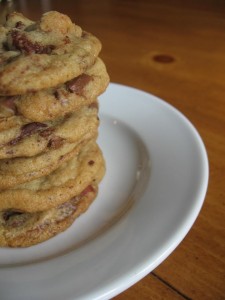 A few years ago, I finally found what I thought was the best-ever chocolate chip cookie recipe. I got it from my friend Jill, and it is basically the Nestle Tollhouse recipe but with a little extra flour added. I love that recipe; the cookies turn out soft, buttery, and delicious. As a result, I was skeptical that Melissa Murphy's chocolate chip cookies could be as good.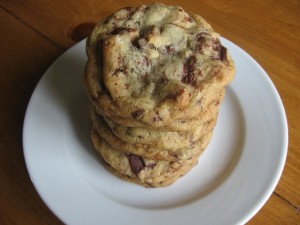 I was so, so, so wrong. The first thing that both my husband and I said after we took our first bite was, "Oh My Gosh. Those are amazing!" (The kids liked them too, but they're hardly discerning when it comes to sweets.)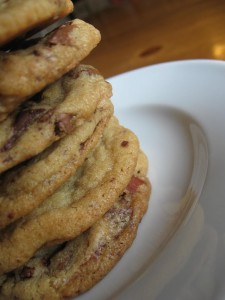 The cookies call for best-quality semisweet chocolate cut into chunks, so I used 1 2/3 Scharffenberger 62% bars and 1 Lindt milk chocolate bar because I love milk chocolate. It turns everything it touches into gastronomic gold! You could easily use semisweet chips if you wanted to make these cookies a little easier, but I love the dirty, marbled effect you get from using chopped chocolate. The recipe also calls for toasted almonds, which really puts these cookies in a league of their own.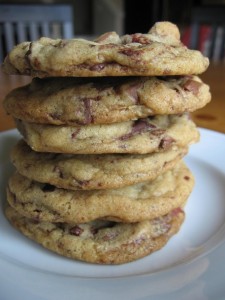 The best thing about these cookies is that they are really no harder to make than normal chocolate chip cookies. Toasting almonds and chopping nuts and chocolate bars only takes about 5 minutes of work, and after that the recipe is pretty standard.
The author of the Sweet Melissa Baking Book, Melissa Murphy, was our host this week!! You can find the recipe on the Sweet Melissa Sundays website, and can also check to see if the other Sweet Melissa bakers liked the recipe as much as I did!