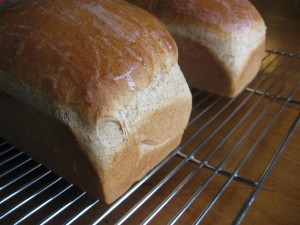 I think a lot of people–myself included–shy away from making our own bread because we think it is a) really tricky, and/or b) really time-consuming. Guess what? It isn't. Yes, yeast can be a scary thing; heaven knows I've messed up my fair share of yeast breads. But there are some tricks you can use to assure yeasty success every time you bake. And yes, the amount of time between when you start your bread and when you can eat it is in the hours, not the minutes, but most of that is waiting time, not working time.
Here is my mom's recipe for homemade bread. I happen to think it is the best in the world!
You can make this with all white flour or a combination of white and wheat. I tend to like it a little less wheaty, so I never go over half with the wheat flour.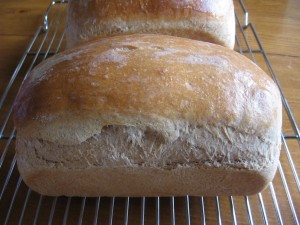 1/2 cup warm water
1 Tablespoon yeast
1/2 teaspoon sugar
2 cups hot water
1/3 cup oil
1/3 cup honey
1 Tablespoon salt
6 cups flour, plus more if needed
2 Tablespoons butter
In a 1-cup measuring cup, combine warm water, yeast, and sugar. Here's my yeast tip, and it hasn't failed me yet: Fill a small bowl with hot water; it shouldn't be boiling, just get your tap water nice and hot. Place the measuring cup with the yeast, water, and sugar into the hot water bath. Set aside to proof. In a large bowl or the bowl of your stand mixer, combine hot water, oil, honey, and salt. Now, before you add your yeast, make sure it has grown since you first mixed it with the water. I've never had the water bath method fail, but I guess there's a first time for everything, right?! If your yeast looks good and bubbly, add it to the mixing bowl, along with the first 2 or 3 cups of flour. Stir to combine, then add remaining flour. If you are using a stand mixer, this is when you should switch to your dough hook. If you are making your bread by hand, turn it out onto a well-floured surface. Knead for 10 minutes. The dough should form a nice ball that is no longer sticky when touched (you should be able to touch it and come away with a clean finger) and pulls away from the sides of the bowl. If needed, add more flour in 1/4 cup increments. Put the dough in a lightly oiled bowl, cover with a towel, and let rise in a warm room for 1 hour.
Punch down risen dough, and turn it back out onto a well-floured surface. Give it a good knead for a minute or two, then divide the dough into 2 equal portions (I use a pastry cutter for this part, but you could use a knife). Shape each portion into a long oval, place in greased bread pans, cover, and let rise 30 minutes.
Bake loaves in a 350 degree oven for 30 minutes. If the bread is done, it should make a nice, hollow thud when you tap the top. Remove loaves from oven and immediately remove from pans. This part is a little tricky; try not to burn yourself. I usually use a pair of clean oven mitts to handle the piping hot loaves. Put them on a cooling rack and rub top crusts with butter.