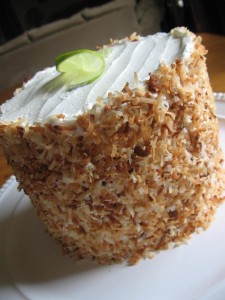 This month's featured cake from the Cake Slice Bakers was the lovely Pina Colada Cake. I was excited that it won our monthly poll because I love coconut and pineapple flavors together, and because the cake sounded perfectly summery.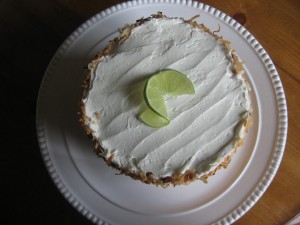 I loved the actual cake layers; they were moist, light, and full of brown sugar. The batter was a snap to make and smelled delicious while baking. And, because I halved the recipe but only have one 6-inch cake pan, I got to have a house filled with the wonderful smell of warm brown sugar for almost 2 hours! The filling was also amazing, and something I would make again and can think of a dozen applications for. It was a mixture of crushed pineapple, lime juice, sugar, and vanilla bean, boiled down to a thick, sweet goo. I ate several spoonfuls and would happily have eaten all of it right out of the pot!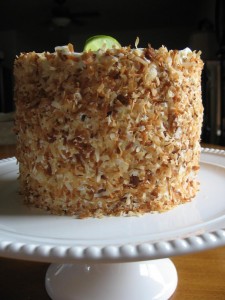 The frosting was not my favorite, but I'm pleased that it turned out. Last month, my brown sugar buttercream never came together, so I was thoroughly impressed with myself for managing to crank out what I imagine was a good coconut buttercream this month. Call me crazy, but I just like frosting made with powdered sugar! But now I can say I know how to make buttercream frosting, so I'm glad I went ahead and tried it.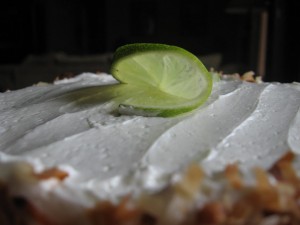 I loved garnishing this cake and think it was quite a stunner, if I do say so myself! I had a really hard time choosing pictures to post!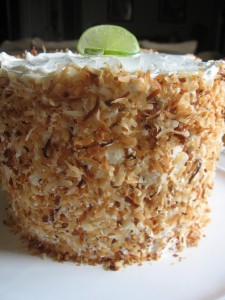 I am too lazy today to type out the whole recipe, so click here to go to Lick The Bowl Good, a blog with lovely, lovely food photography and great recipes, including the one for this cake!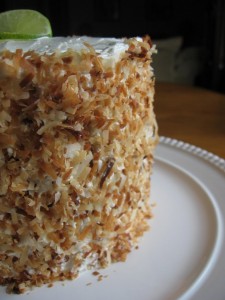 Our year of baking with Sky High: Irresistible Triple-Layer Cakes by Alisa Huntsman and Peter Wynne is actually winding down pretty soon, and I have thoroughly enjoyed baking these recipes, and have even found a few that will become go-to's. I would definitely recommed this fantastic cookbook to anyone looking for great cake and frosting ideas.