**If you are looking for the Pina Colada Cake from the Cake Slice Bakers, just scroll down! And stay tuned: my blog's 1 year anniversary AND my 100th post are both coming up soon, and I'm thinking of doing a little give-away to celebrate!**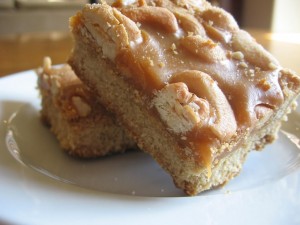 This week's recipe for Butterscotch Cashew Bars from the Sweet Melissa Baking Book was chosen by Pamela of Cookies with Boys. If you are interested in the recipe for these tasty bar cookies, please visit her blog!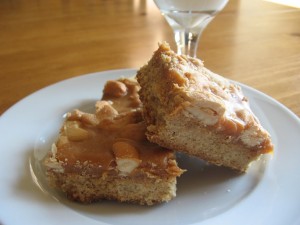 I have to admit that while I thought these cookies were good, I didn't love them. I thought they sounded so promising; I love cashews, I love sticky, gooey butterscotch, and I love shortbread. The combination of the three in bar-cookie form just didn't knock my socks off. Don't get me wrong, they were good enough for me to eat one each day for three or four days, but I could keep my hands off of them, which is unusual with me and baked goods! With the chocolate chip cookies from last week, I ate some before breakfast, some on my way out the door to run errands, a few while cooking dinner…You get the picture.