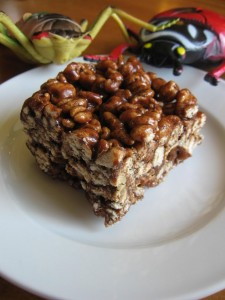 Another recipe from my childhood! These delicious cereal bars are kind of like a mix between rice krispy treats, popcorn balls, and chocolate. The gooey chocolate caramel sauce sticks to your teeth and they are just so tasty! And healthy, right? Puffed wheat…healthy…anyone…anyone? You can find lots of versions of this recipe on the internet (although they call them chocolate puffed wheat bars or something like that), but this one has the most chocolate caramel goo and the least cereal. I like my sticky sweets sticky! Do you ever have rice krispy treats from someone else and you think, "Did you put ANY marshmallow or butter in these???" We can't have that! If you missed the first part of my Recipes From Cheryl series, Nanaimo Bars, click here. And enjoy! Enjoy all that chocolatey goodness!
Cockroach Bars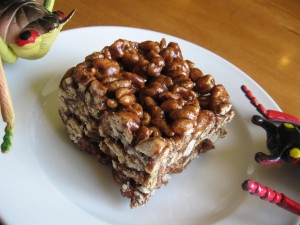 4 1/2 cups unsweetened puffed wheat
1/3 cup butter
1/2 cup light corn syrup
1 cup brown sugar
3 Tablespoons cocoa powder
1 teaspoon vanilla
Measure puffed wheat into a large bowl and set aside. In a small saucepan, melt butter. Add corn syrup, brown sugar, and cocoa and bring to a boil. Remove from heat, add vanilla, stir, and pour over puffed wheat. Stir gently with a spatula until cereal is evenly coated. Press cereal mixture into the bottom of a lightly greased 8×8″ square baking dish and cool completely before serving.