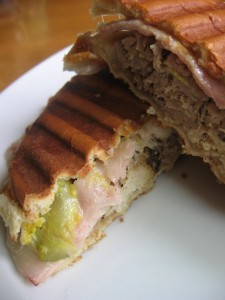 OK, so I've never met anyone from Cuba (at least that I can remember), and I'm not a cigar-smoker. I'm talking sandwiches here, people! Years and years ago, my dad told me about a place near his office that made these tasty Cuban sandwiches with roast pork, ham, mustard, and dill pickles on grilled bread. That's the first time I ever heard of Cuban sandwiches, but over the years I've seen recipes pop up here and there in magazines and on TV. The thing is, I never got around to eating one, even though they sound like they'd be right up my alley. So when I was writing up my menu and shopping list for this week, I decided to give them a whirl and see how they turned out. In a word, PERFECT! I really am sorry that I didn't try making these sooner, because they are quick, easy, and extremely delicious.
I decided to wing it with the recipe instead of making someone else's version of Cuban sandwiches. If you look them up on Wikipedia, it lists both the traditional and nontraditional ingredients, so it is pretty easy to figure out what to do. I started with country style boneless pork ribs, seasoned them with a garlic, oregano, salt and pepper rub, then simmered them for a few hours with some chicken broth and a bay leaf. When the pork is ready, all you have to do is shred it with a pair of dinner forks. I am trying to feed my family less processed fare, so when it came to ham, I opted for a presliced natural ham without additives from the deli section. Traditionally, Cubans are made with swiss cheese, but I'm really, really not a swiss cheeser, so I opted for the much tastier provalone. Add some dill pickles and a little mustard, panini it up, and you're done! So, so, so good. There really isn't anything else I can say, except thank goodness I have enough of everything left over that I can make one of these again for lunch tomorrow!
Cuban Sandwiches
If you are cooking the pork the same day you want to serve the sandwiches, please note that it requires a few hours of prep and cooking time. Very easy; just requires some forethought.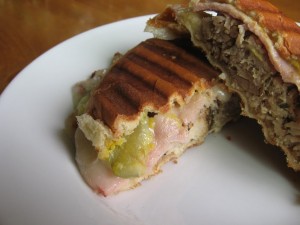 1 1/2 lbs country style boneless pork ribs
1 teaspoon kosher salt
1 teaspoon freshly ground black pepper
1 teaspoon dried oregano
1 teaspoon minced garlic
olive oil
1 14-oz can low sodium chicken broth
1 bay leaf
8 slices deli ham
8 slices provalone cheese (or swiss, if you're masochistic)
mustard
dill pickle slices
4 sandwich rolls or large hamburger buns
butter
Combine salt, pepper, oregano, and garlic in a small bowl. Rub both sides of boneless pork ribs with spices, and let sit on the counter for 1 hour. Heat a small amount of oil in a large, heavy-bottomed skillet or dutch oven, and brown pork ribs on both sides. Add broth and bay leaf, cover, and reduce heat. Simmer pork for 2-3 hours, until meat is very tender and falls apart easily. Remove pork from skillet, shred, and set aside.
Preheat your panini press. (If you don't have one, preheat 2 nonstick skillets. You put the sandwiches in one skillet, then put the other skillet on top and weigh it down with a nice, heavy can of something.) Lightly butter the outsides of the hamburger buns. Spread the inside of the top buns with mustard. Layer pork, ham, pickles, and cheese on the bottom bun, top with the mustard-slathered top bun, and cook in your panini press until outside is golden and cheese is melted.
Serves 4