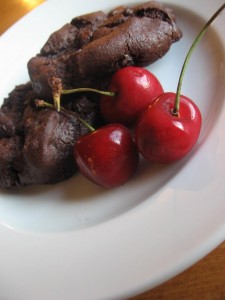 These cookies wildly surpassed my somewhat low expectations. I like chocolate-covered strawberries, and I love orange and chocolate flavors together, but other than that, I'm really not into fruit and chocolate pairings. As a result, I was skeptical about these dark chocolate cookies filled with dried cherries, even as Melissa Murphy, the author of the Sweet Melissa Baking Book, assured me that they were delicious in the recipe's forward. I was even less excited when I took them out of the oven, because I didn't think they were very pretty. So I ate one. And I liked it. So I ate another one. And another. And another. And another. And another. Yes, that is six cookies! And then I had two more the next day. They are really good cookies! The flavor of the cherries didn't come through as an overt, fresh cherry flavor. It was subtle and just a little tart, much like a dried cranberry, and gave the dark, rich chocolate of the cookie a little punch of zip.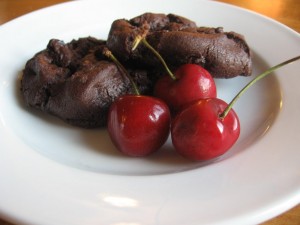 Two tips if you're going to try these, and I do suggest you try them:
1) Do not bake them for 15 minutes, which is what the book says to do. Maybe 12 or 13, unless you like crispy cookies, in which case, by all means, leave them in for the full 15.
2) If your dried cherries are the size of quarters, like mine were, try snipping them into fourths with a pair of kitchen shears. This will spread the cherry love a little.
A big thanks to Megan of My Baking Adventures for choosing this week's delicious recipe. If you haven't had the pleasure of visiting her blog, she posts a great weekly ice cream series called The Weekly Scoop, which is awesome for these hot summer months. She also has this week's recipe, so do swing by. And to see a list of the other Sweet Melissa bakers, click here.