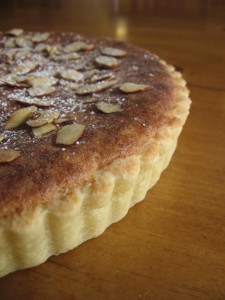 The June Daring Bakers' challenge was hosted by Jasmine of Confessions of a Cardamom Addict and Annemarie of Ambrosia and Nectar. They chose a Traditional (UK) Bakewell Tart… er… pudding that was inspired by a rich baking history dating back to the 1800's in England. You can find the recipe for this lovely tart on both of their blogs.
One of the things I love about the Daring Bakers Challenges is that half the time, the item we are baking is something I've never even heard of before. This month's recipe, the Bakewell Tart, falls into that category. Baking something completely new to me always adds an extra ounce of zing to an already exciting time; not knowing how something is supposed to look or taste or smell makes it fun!
We didn't have a lot of artistic license over this recipe; we were required to make the crust and frangipane (aka, almond stuff) recipes provided. But sandwiched in between the two we could put basically anything we could spread on a crust. I actually made strawberry-raspberry-ruby red grapefruit preserves specifically for use in this tart. The preserves were completely from scratch–no store-bought pectin here!–and smelled absolutely heavenly while cooking. And they tasted really good and bright and summery…but I just didn't want to put them in my tart!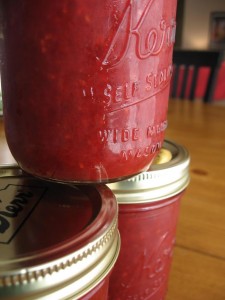 So I used blackberry jam (from Costco, but it is made in my state, so don't take too many points off for using something store-bought) on one half, and homemade chunky applesauce on the other. The recipe for the applesauce is here, and I encourage everyone to make some this fall. It is amazing; people say it tastes like apple pie filling, and they don't mean it as a compliment, but how is that a bad thing?!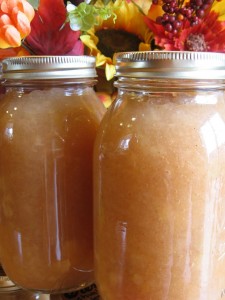 As of posting time I had yet to taste the Bakewell Tart; the month got away from me, and then the day got away from me too! But it is out of the oven and quite pretty, and I managed to snap a few pictures in the fading 8:30 PM light. Thank goodness for my northern latitude! I would never get pictures of anything if it didn't stay light for so long!