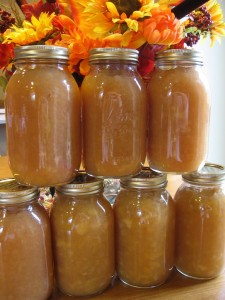 We've got apples coming out our ears right now. Some are from our ridiculously productive dwarf 4-way apple. Some are from the farmer's market. The best-tasting ones are actually from an orchard our friends gleaned! I was planning on canning a little applesauce and a little pie filling, but while blog hopping a few weeks ago I found a recipe for chunky applesauce that looked beautiful and sounded like it would be delicious. I ate a whole quart of it by myself yesterday, and I think it has forever ruined regular applesauce. I'm going to make as much of it as I can!
Amazing Chunky Applesauce
from The Farmer's Wife Blog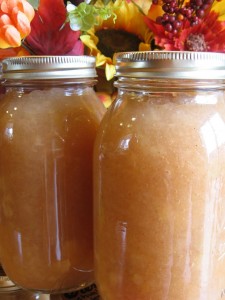 I got about 2 quarts from the recipe. I can't imagine only wanting 2 quarts of this, so you might want to do more.
4 pounds apples, peeled, core, and quartered (I used the magnificent core-peel-slice tool)
1/4 cup brown sugar
1/4 cup white sugar
4 big strips of lemon peel
juice from 1 lemon
1 cinnamon stick (or 1/2 teaspoon cinnamon)
1 cup water
1/2 teaspoon salt
Combine all ingredients in a pot, cover, and bring to a boil. Reduce heat and simmer until apples are soft, 20-30 minutes. Remove cinnamon stick and lemon peel. Mash apples with a potato masher until desired chunkiness is reached. Ladle hot applesauce into hot, clean quart jars. Get out the air bubbles and wipe the rim of each jar. Put on lids and rings. Process in a boiling water bath for 25 minutes. Remove from heat and cool completely.