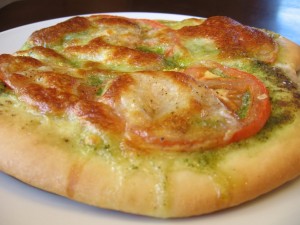 Yes, the picture is a recycled one from earlier in the year. It gets dark too early to get good pictures now.
I love homemade pizza, so I was decently excited about this month's Daring Baker's Challenge. Not super excited, mind you, but excited nevertheless. Our very good friends from Nature of the Chemical Blog are pizza afficionados, so we got together one evening to test our pizza tossing skills.
The rules for this month's challenge were pretty simple: we had to use the recipe for Basic Pizza Dough from Peter Reinhart's The Bread Baker's Apprentice, and we had to toss at least two of the pizzas instead of rolling them out, which, apparently, is the cheater's method. This dough is a two-day process, so our lovely hostess did all of that for us; all we had to do was show up, toss, and top. And that's where the craziness started. I'm no pizza expert, but this dough was sticky, sticky, sticky. It was hard to get the dough off of my hands and into the air, even with floured fists. Once the dough was airborn, it was only good for one toss. After that, it was super thin and very much in danger of tearing. We had a few mishaps but managed to fix everything and get the pizzas in the oven. As far as crust goes, it was tasty, but seemed like a lot of trouble just for a pizza crust.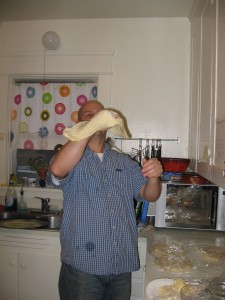 Notice the fingers poking through the crust. This happened a lot!
The real excitement of the night came in the form of toppings. We had so many delicious combinations:
bbq chicken with smoked gouda, red onions, and Sweet Baby Ray's BBQ Sauce
zucchini marinated in balsamic vinegar and topped with mozarella
standard but delicious pizza margherita
some crazy concoction called "Halloween Pizza" with regular and sweet potato slices and rosemary infused olive oil
Most people probably would have considered their Daring Bakers requirements met after that, but not I. Oh no, I felt guilty that I didn't actually make the dough myself. So I planned to try the dough this week. Life got in the way, as usual, so instead of try the dough we were supposed to try, I just made my good old stand-by pizza dough recipe. To tell you the truth, it tasted just as good as the fancy-pants dough, and it took a lot less time. It even tossed like a dream!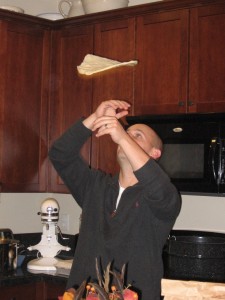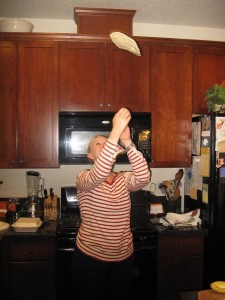 Why am I dressed like a gondolier?
Pizzas from Pizza Night Pt. II:
pesto, zucchini, yellow squash, olive oil, fresh mozarella, and kosher salt
pesto, bacon, tomato, fresh mozarella, and kosher salt (my vote for the best)
tomato sauce, pineapple, bacon, fresh mozarella, sharp cheddar, and tomato (weird, but good)
We had lots of fun making pizzas on both occassions. Thanks to our friends for letting us ride their coattails on this one.