Last Valentine's Day I decided that I had HAD it with traditional sugar cookie recipes. I love how they taste, but I just can't stand setting aside an entire day to see them through from start to finish. The mixing, the chilling, the rolling. AAAGGGHHH! So, I figured there had to be a recipe for "drop" sugar cookies that tasted just as good as my old stand-by, all-day recipe, Ethel's Sugar Cookies from the Cooky Book.



I searched the internet until I found one that sounded a lot like Ethel's, but didn't involve chilling the dough or rolling it out or cutting it into pretty shapes. I was so pleased with how these drop sugar cookies turned out. They tasted so good that my husband and I ate them all, even though I had made enough to deliver to friends for the holiday! If you want to make your sugar cookies into fancy shapes, go ahead and use your traditional sugar cookie recipe. But if you are content to just make round cookies, these are so much easier, it is practically criminal.
No Chill, No Roll Sugar Cookies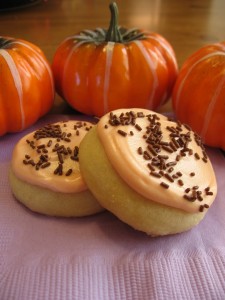 1/2 cup butter, softened
1/2 cup crisco
1 cup sugar
1 teaspoon vanilla
1 egg
2 1/2 cups flour
3/4 teaspoon salt
1/2 teaspoon baking soda
2 Tablespoons milk
Preheat oven to 350. In the bowl of an electric mixer, cream butter, crisco, and sugar until fluffy. Add vanilla and egg; mix. In a separate bowl, sift together flour, salt, and baking soda. Add dry ingredients to mixer and combine. Add milk and stir until completely incorporated. Roll dough into Tablespoon-sized balls and place on a greased baking sheet. Bake for 10-12 minutes, until cookies are just beginning to turn golden on the edges. Remove from oven and cool completely before frosting.