After a whole week of eating heavy holiday foods, I wanted something that felt lighter. These pizzas were quick, easy, and tasted like summer. Magnifico!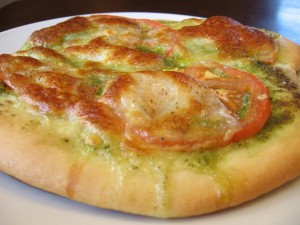 Dough:
1 cup warm water
2 1/2 tsp yeast
3 1/4 cups flour
1 tsp salt
1 tsp sugar
2 T oil
Combine water and yeast; set aside for 6 to 7 minutes. Meanwhile, combine remaining ingredients in the bowl of an electric mixer. Add yeast mixture to bowl and stir with the paddle attachment until combined. Switch to the dough hook and continue to mix on low until all the dough has pulled away from the sides. Oil the bowl lightly, cover with plastic wrap, and let rise in a warm spot for 30 minutes. When dough has doubled in size, punch it down, knead it gently a few times, then separate it into four equal balls. Roll each ball out to the desired thickness (I rolled mine to about 1/4″).
Toppings per pizza:
1 Tablespoon store-bought pesto
4 thin slices tomato
4 thin slices fresh mozarella
kosher salt
pepper
Top pizzas. Bake for 18 minutes in a 450-degree oven. My friend Marcelle, whose dough recipe this is, likes to par-bake her dough for about 4 minutes before topping it. This produces a crispier crust.