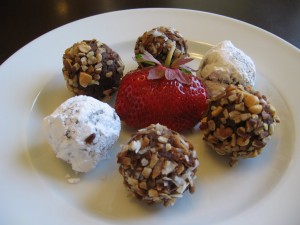 I had quite a bit of homemade hazelnut praline paste left over from a recent project and could not figure out what to do with it. And I had book club coming up and wanted to make a fun dessert to take. So, I squished the two dilemmas together and decided to make tarts with a hazelnut crust for my bookclub. Each of the layers was very easy to make in theory, so they SHOULD have taken a lot less time to put together than they did. I think there were two main problems: 1) I made 20 tarts using only 5 pans, and 2) my first and second attempts at the caramel layer ended up in the kitchen sink and I had to throw something together because I was running out of time and ingredients. When I was finally finished and tried one, I was disappointed that it wasn't better, mostly because they took so much more work than I had anticipated. However, everyone else thought they were delicious. And I had just enough ganache left over from the chocolate layer to make 6 lovely truffles. They were so good, they made up for the so-so tarts.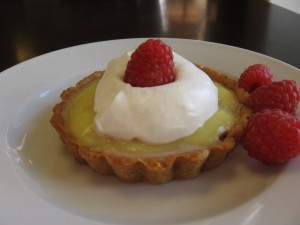 Hazelnut Tart Crust:
After searching the internet for a while, I found a recipe on Epicurious for a hazelnut crust that could easily be modified to accommodate my praline paste. For the original recipe (using hazelnuts, not praline paste) click here.
1 cup hazelnut praline paste
2 cups flour
1 teaspoon salt
1/2 cup unsalted butter, cold
2 eggs
2 teaspoons vanilla
Preheat oven to 350. Combine praline paste, flour, and salt in the bowl of a food processor; pulse until combined. Cut cold butter into pieces and add; pulse until mixture resemble coarse meal. Add eggs and vanilla and pulse until dough comes together. Wrap in plastic and chill for 30 minutes. Divide dough into 20 balls, and press 1 ball over the bottom and up the sides of each tart pan. I used 3 7/8″ pans and that was stretching it a bit. If you use bigger pans, you obviously won't get as many tarts. Bake at 350 for 15-20 minutes. Cool.
Chocolate Layer:
6 ounces good-quality semisweet chocolate
6 ounces heavy cream
1 Tablespoon light corn syrup
scant teaspoon vanilla
Chop chocolate and place in a medium-sized bowl; set aside. In a small saucepan, combine cream and corn syrup, and heat over low until mixture comes to a gentle boil. Remove from heat and pour over chocolate. Allow mixture to sit for 1 minute, then stir until smooth. Add vanilla and stir. Chill until spreadable.
Banana Layer:
2 large bananas, sliced very thin
Caramel Layer:
25 Kraft caramels, unwrapped
2 Tablespoons heavy cream
Combine in a small saucepan and heat over low until caramels melt. Stir to combine. Cool to room temperature.
Custard Layer:
1 large package cook and serve vanilla pudding
3 cups milk
Combine pudding and milk in a medium-sized saucepan. Cook following package directions. Chill.
Assembly:
Spread a small amount of chocolate in the bottom of each tart crust. Place 3 banana slices on top of the chocolate, then top with a small spoonful of caramel. Let the tarts sit for a few minutes to allow the caramel to spread out. Put a heaping tablespoon of pudding on top of the caramel and place tarts in the fridge. Just before serving, top with a dollop of whipped cream and a raspberry