This is delicious served with a fresh salad and hot french bread. I used broccoli, carrots, and peas because that's what I had on hand, but it would be equally good with zucchini, asparagus, squash, etc.
Creamy Garden Pasta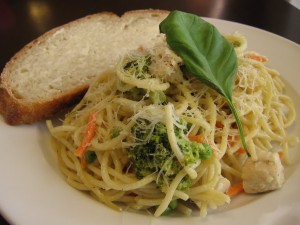 1 lb. spaghetti, noodles broken in half
6-7 boneless, skinless frozen chicken tenders
2 small heads broccoli, cut into florets
6 oz matchstick carrots
8 oz frozen peas, thawed
1 Tablespoon olive oil
1-1 1/2 cups cream
1 Tablespoon minced garlic
1/2 cup freshly grated parmesan cheese
1 Tablespoon pesto
salt and pepper
Cook spaghetti to al dente according to package directions. Drain, rinse with cold water, remove from pot, and set aside. Meanwhile, pour olive oil into a saute pan and add frozen chicken. Season with salt and pepper. Cook over high heat until chicken is white on both sides, then cover and turn heat down to about medium-low. Allow to simmer until chicken is cooked through, about 7-8 minutes. Remove chicken from pan, chop, and set aside. In the same pot you cooked the spaghetti in, add brocolli, carrots, and about 1 inch of water. Put over high heat until water comes to a boil, cover, and cook until veggies are just becoming tender, about 4 minutes. Drain. Meanwhile, add garlic to chicken drippings and saute for 3 or 4 minutes over medium heat until garlic becomes golden. Add cream and heat to a gentle boil. Add cheese and pesto, stir to combine, and remove from heat. Add chicken, pasta, and sauce to vegetables and heat over low until everything is heated through. Salt and pepper to taste. Serve with extra parmesan cheese.