I have inherited many things from my mom–my love of gossip magazines, my late-night TV-watching habits, and best of all, my appetite for dough. I love to eat bread dough, pizza dough, cookie dough, pecan-ring dough–in short, any type of raw bread-type product. Possibly my favorite dough to eat is the one that my mom uses on her mini quiche. I love it so much that whenever I see crustless quiche for sale anywhere, I automatically think, "Yuck. What good is quiche without the crust?" This delicious cream cheese pastry dough is very tasty, very easy, and very useful. I've used it in the aforementioned quiche, in savory Swedish hand pies, and in homemade chicken pot pie. It would probably taste good with some fresh herbs mixed in, and would most definitely taste delicious in sweet pastries as well. The only problem is how to restrain myself from eating it raw!
Chicken Pot Pie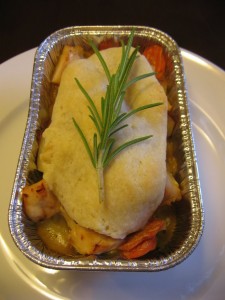 This recipe makes 1 10″ pie or 6 individual pies baked in mini loaf pans.
Crust:
6 oz cream cheese, softened
1 cup butter, softened
2 cups flour
pinch of salt
Combine all ingredients in the bowl of a stand mixer, turn it on, and mix until combined. Remove dough from bowl and divide in half. Wrap one half in plastic wrap and place in fridge. Roll the other half of the dough out into a circle big enough to fit in the bottom and up the sides of a 10″ pie plate. If you are doing mini loaf pans, divide the unrefridgerated half of the dough into 6 equal blobs and press one into the bottom of each pan. This is the method I usually use because I don't like to get my rolling pin dirty:) Bake the bottom crust in a 350-degree oven for about 20 minutes or until the edges begin to turn golden.
Filling:
2 boneless, skinless chicken breasts, chopped
2 cloves garlic, minced
1/2 small onion, chopped
2 red potatoes, diced
1 carrot, diced
1 stalk celery, diced
1 can chicken broth
1 packet chicken gravy
1 cup water
1 Tablespoon butter
1 Tablespoon flour
pinch of dried thyme, basil, oregano, and parsley
salt and pepper
1/2 cup frozen peas
While the bottom crust bakes, saute chicken, garlic, and onion in a little olive oil until chicken is cooked through. Remove chicken from pan, add gravy and water and prepare according to package directions. Meanwhile, boil potatoes, carrots, and celery in chicken broth until mostly tender. When gravy has thickened and vegetables are tender, drain broth into gravy pan, add butter, flour, and dried herbs and simmer to thicken. Salt and pepper to taste. Pour frozen peas into baked bottom crust and top with chicken, vegetables, and gravy. Either roll out or press remaining half of dough to make a top crust. Place it on top of the pie filling, poke a few holes, and bake in a 350-degree oven until top crust begins to turn golden.