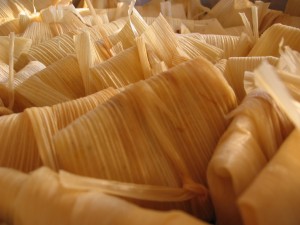 I'm so glad I'm friends with Tannya. I have a lot of kitchen gadgets, but if there is something truly weird and obscure that I want to use, I know Tannya will have it. Like this crazy dim sum steamer.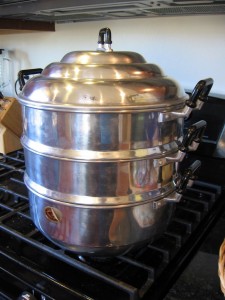 Where do you even buy something like that??? And she's a fantastic cook who is willing to share her recipes and know-how. Right after I had my second baby, she brought us some fantastic homemade Mexican food, including some tasty little corn, cheese, and green chili tamales that I couldn't stop eating. I decided I wanted to make them and she not only gave me the recipe, she let me borrow her cool steamer tower and gave me a quick phone tutorial on tamale making. So I dedicate this post to you Tannya. Thanks for everything!!!
After giving me the recipe, Tannya said she usually doubles or triples it so she has enough tamales to freeze for later. In another perfect example of how my strange brain works, I thought, "If doubling or tripling the recipe is good, quadrupling it is even better!" I think I spent about 4 hours wrapping tamales yesterday, and only the first 20 minutes of that can be attributed to a learning curve. The rest was just tamales, tamales, tamales. I was reminded of the book Too Many Tamales by Gary Soto, a delightful story about too stinking many tamales!



Now that all that tamale making is over, I have both a belly and a freezer full of delicious tamales–and I won't have to make them again for a very, very long time. Since this is not my recipe to post, I will provide a link to Tannya's recipe blog…if she ever does one. In the meantime, a picture will have to be worth a thousand tamales, which is just about how many I made.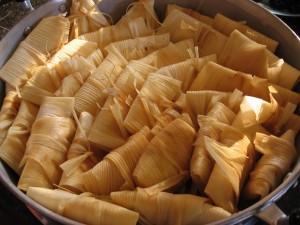 PS–Does anyone know how to get rid of the weird black lines/picture icons at the end of this post? I tried to get rid of one, but it replicated itself instead, and now there are two!