Melissa's Orange-Hazelnut Extravaganza!
I'm so excited to be posting my first Daring Bakers Challenge results. Our mission was to make Carol Walter's Filbert Gateau with Praline Buttercream from the book Great Cakes. It took me days to figure out what I wanted to do with this recipe. It also took me days to make it. But it didn't take me days to eat it. Even though I made the full-sized 10″ cake, we managed to polish it off in almost one sitting. It helped that I had guests for dinner, in-laws in town, and a friend who took 2 pieces as payment for helping me make it. Here's a break down of how it all went:
Although hazelnuts are not my favorite nut, they do have a certain lovely, aromatic appeal. And, since this was my first challenge, I decided to stick pretty close to the original recipe. Now, elsewhere in the world, hazelnuts can be rather expensive. Not so in Oregon! After vowing not to spend $6 on a tiny bag of hazelnuts at Trader Joe's, I decided to go local and find some hazelnuts at a nearby farm stand. My husband ran that little errand and came back beaming: he had found some for $1.50 per pound! Here's what inexpensive hazelnuts look like: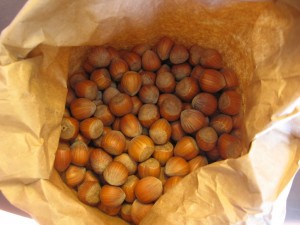 That's right, they're still in the shell. So I bought a cheap nutcracker at the grocery store and set in shelling hazelnuts. Here's how many I had done 30 minutes later: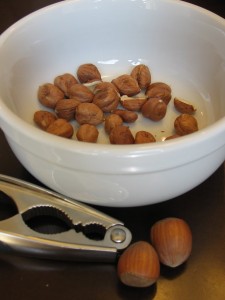 At the most, I think I was getting 1 hazelnut shelled each minute. My husband thought I was joking. Nope. Nor have I been putting you on all these years with my tales of upper body weakness. So, I turned the job over to him and he cracked the rest for me very quickly.
I didn't think this hazelnut business could get any worse, but indeed, it did. I decided to do all of my hazelnut prep work the day before actually baking the cake. It turns out that I couldn't have done them on the same day if my life had depended on it. I started by toasting the hazelnuts for 15 minutes at 350 and then rubbing them in a clean kitchen towel, as per the instructions I found on Epicurious. It didn't work so well. I think 80% of the skin was still on the nuts. So I popped the hazelnuts in some boiling water for a few minutes, wrapped them in another clean kitchen towel, and rubbed them again. This actually did a great job of loosening the skin, but not of actually removing it. I know it wouldn't have mattered taste-wise, but I couldn't stand the idea of using hazelnuts with giant shreds of skin clinging to them. So I put them back in the oven for another 5 minutes to dry up the skin (not to mention the now soggy nuts), wrapped them in a third clean kitchen towel, and rubbed again. After all was said and done, I was pretty happy with the amount of skin removed. I do think the first toasting was unnecessary, but the boiling-toasting method seemed to do a pretty good job.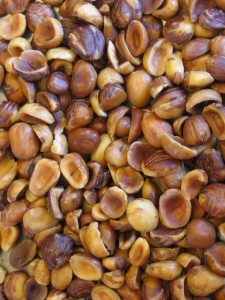 Hours later, the toasted, skinned hazelnuts
I also chose to make my praline paste and my buttercream a day early. I'm a little squeamish when it comes to raw or "gently" cooked eggs, and I'm not a fan of meringue, so I chose a simple, not exactly authentic, vanilla buttercream instead of the swiss buttercream in the recipe.
4 1/2 cups powdered sugar
1 1/2 cups butter
2 tsp vanilla
2 Tablespoons cream
salt
Combine sugar and butter, and whip until very smooth. Blend in vanilla, cream, and a pinch of salt.
I decided to do an orange/milk chocolate/hazelnut cake, so I threw the zest of one orange and the juice of 1/2 an orange into the frosting. It was so delicious, I had to really exert some willpower not to eat it right away! I was worried that the praline paste would ruin it, but guess what…it tasted even better! I was kind of sad that at the end of day 4, the only thing I had to show for all that work was a bowl of frosting.
Judgment day. My friend Annie didn't sign up in time for the July challenge, but I knew I needed help putting this cake together, so I invited her to come over and tackle this project with me. I honestly don't think I could have done it alone. We didn't vary at all from the cake directions, but were a little worried when it came out of the oven less than 2″ tall. We used a toothpick/dental floss method for cutting the first layer. I pulled and pulled that floss and it cinched and cinched that cake until we thought it was going to pop! So we used a serrated knife to score the outside of the second layer and the floss cut through like butta.
Once we had the layers cut, we assembled the cake. Layer 1, sugar syrup, orange hazelnut praline buttercream, unsweetened whipped cream, layer2, sugar syrup, orange hazelnut praline buttercream, unsweetened whipped cream, layer 3, fruit glaze. In keeping with the orange theme, we used orange marmalade instead of apricot jam for the glaze. Neither Annie nor I had ever tried marmalade, and we were both worried about the outcome, but I think it was an OK substitution. Now on to the ganache! I didn't have any semisweet chocolate other than plain old chocolate chips, and I didn't think they would be classy enough for ganache. Instead, we used equal parts Swiss milk chocolate and 60% cacao bittersweet. After adding the cream, the ganache looked super liquidy, even after cooling for a few minutes. At the advice of our friend Marcelle (who is a cooking genius), we put it in an ice water bath for 5 minutes.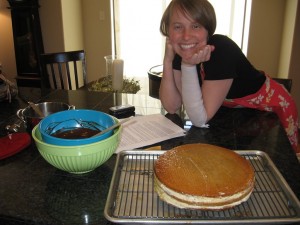 Annie, the cake, and the bathing ganache
That did the trick and we oooohed and aaaahed as it poured over the top of the cake and down the sides.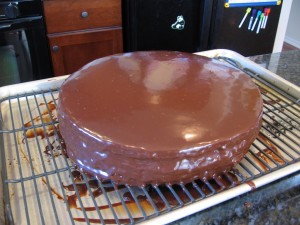 Check out that mirror-like shine!
We then stuck the cake in the fridge for about an hour before decorating it with the remaining orange-hazelnut praline buttercream, a crown of ferrero rocher, and a lovely orange slice.
A slice of hazelnut heaven
I don't know that I would make it again just because of all the work that went into this cake. It is the antithesis of convenience food. It could only have been MORE from scratch if I owned a cow! But, having said that, it was worth making this time. The orange, chocolate, and hazelnut flavors tasted amazing together, and we all thought it looked quite stunning. And I learned a lot of technical stuff, like how to make ganache, how to clarify butter, how to really skin a hazelnut, and that marmalade it a strange condiment.