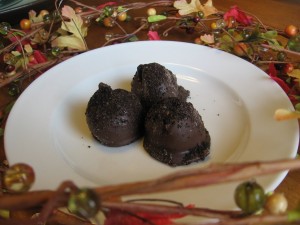 My dad's side of the family puts together a family cookbook every three years, and this year's cookbook had some particularly wonderful recipes in it. One of them was for Bodaciously Wicked Truffles from my cousin Wendy. These babies were soooo good, and very aptly named. A few warnings: don't try to substitute vanilla candy bark for the chocolate bark. The darkness of the chocolate bark hides all of the oreo bits that find their way into the candy coating. If you use vanilla, you'll end up with a muddy mess, albeit, a tasty muddy mess. Also, apparently, adding food coloring to vanilla bark makes it seize up and get clumpy! Just follow the directions and don't try to get creative!
Bodaciously Wicked Truffles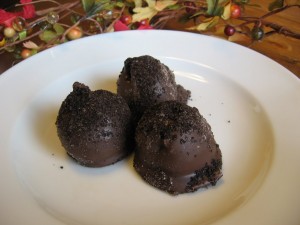 1 package Oreo cookies
1 8-oz brick cream cheese, softened
1 lb chocolate bark
Take 9 oreos out of the package, grind them up in a food processor, and set aside. Grind the remaining oreos up, add the cream cheese, and process until you have a dark, tar-like goo. Chill until fairly firm. I put mine in the fridge for an hour, but you could also stick it in the freezer for 15 minutes. Scoop out about a Tablespoon of oreo filling, roll it into a ball, and place it on a cookie sheet lined with waxed paper. Repeat until all of your filling is gone. Return to freezer for another 15 minutes. Meanwhile, melt chocolate bark according to package directions. When oreo balls are firm, dip each one in melted chocolate bark, return to lined cookie sheet, and top with reserved oreo crumbs. The easiest way I've found to dunk the oreo balls in the chocolate bark is to throw one in, use a spoon to coat it on all sides, and then gently scoop it out (DON'T STAB IT!) with a fork. Allow to dry before eating. They actually taste best if you refrigerate them. Supposedly this recipe makes 40-50 oreo truffles, but I think I only got 30.