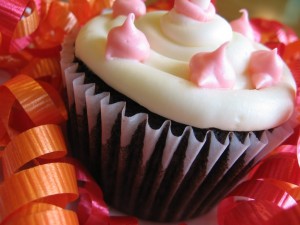 We had an exciting election and a family birthday this week, so I made chocolate cupcakes to celebrate. As soon as I decided on cupcakes, I knew exactly which recipe I wanted to make. I hadn't actually seen it in a few years, but I could still picture the photograph in my head: a blue background, dark, chocolatey buttermilk cupcakes, and creamy white frosting. They were delicious! I only wish the recipe had made more than a dozen!
Frosted Chocolate-Buttermilk Cupcakes
from the January/February 2005 issue of Martha Stewart Everyday Foods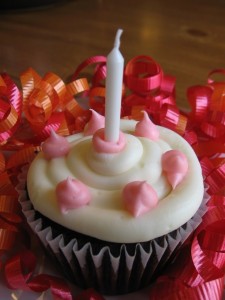 3/4 cup all-purpose flour
3/4 cup sugar
1 teaspoon baking powder
1/2 teaspoon baking soda
1/4 teaspoon salt
6 Tablespoons unsweetened cocoa powder, preferably Dutch-process
3 Tablespoons unsalted butter, melted
6 Tablespoons buttermilk
1 large egg
1 large egg white
Preheat oven to 350. Line a 12-cup muffin tin with paper liners. In a large mixing bowl, combine flour, sugar, baking powder, baking soda, and salt; set aside. With an electric mixer, combine cocoa and 3 Tablespoons hot water until a thick paste forms. Add butter, buttermilk, egg, and egg white; beat until combined. Whisk in flour mixture until smooth. Scoop batter into prepared tin. Bake until a toothpick inserted in the center of a cupcake comes out clean, about 20 minutes. Cool completely before frosting.