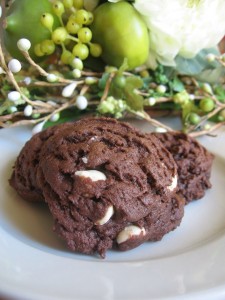 So Margaret and I are at the gym at 6:00 this morning, walking on our treadmills, watching re-runs of Angel on TNT, and I tell her that I'm starving. How does she respond? By telling me all about the AMAZING chocolate chocolate chocolate chocolate (yep, that's 4 chocolates) cookies she made this weekend. What's a girl to do? I had no choice; I came straight home and made them. And they are amazing and rave-worthy (that's "rave" as in reviews, not "rave" as in glow sticks and techno). I didn't have the required 1 cup of semi-sweet chocolate chips, so I used up what I had, then used up the white chocolate chips I had left from a secret project (check back on the 20th), then made up the rest with milk chocolate chips. Gooooooood! And I guess that makes mine 5 chocolates!
Quadruple Chocolate Chip Cookies
from Tania at Mommy Recipes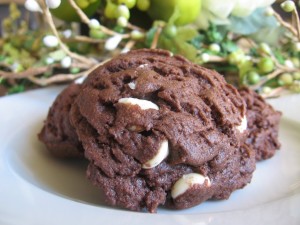 1 cup butter, softened
3/4 cup packed brown sugar
1/3 cup granulated sugar
1 small (3.9 oz) pkg. chocolate pudding mix
2 large eggs
1-2 teaspoons vanilla extract (I used 2 teaspoons)
2 1/3 cups all-purpose flour
1 teaspoon baking soda
1/2-1 teaspoon salt (I used 1/2 teaspoon because I used salted butter)
1/3 cup cocoa powder
1 cup semi-sweet chocolate chips
1 cup milk chocolate chips (or any combination you like)
Preheat oven to 350 degrees. Cream butter, sugars, and pudding mix. Add eggs and vanilla, blending well. Add dry ingredients and mix. Fold in chocolate chips. Scoop by heaping teaspoons (I used a level ice cream scoop!) 2″ apart onto ungreased baking sheets. Bake 8-11 minutes.