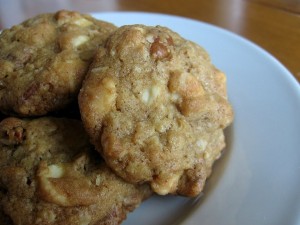 I spotted this recipe on the back of a bag of white chocolate chips a few weeks ago and thought, "Hmm. I MUST make those!" So the occasion arose today (lunch for almost 100 twenty-something boys), and the cookies were a hit. Buttery and nutty, with just the right amount of warmth from the cinnamon. I can't imagine eating them in the summer, but they seem absolutely perfect for a cold, blustery winter day.
White Chocolate Oatmeal Jumbles
adapted from the back of a package of Essensia Real White Chocolate Chips 🙂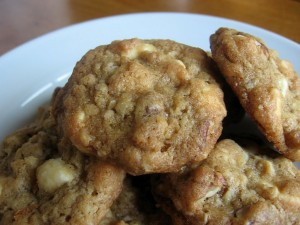 1 1/3 cups flour
3/4 teaspoon baking soda
1/4 teaspoon salt
3/4 teaspoon cinnamon
3/4 cup butter, softened
1/2 cup packed brown sugar
1/3 cup granulated sugar
1 egg
1 1/2 teaspoons vanilla
12 oz white chocolate chips
3/4 cup chopped pecans
3/4 cup quick oats
Preheat oven to 375. Combine flour, baking soda, salt, and cinnamon in a small bowl; set aside. In a large mixing bowl, cream butter and both sugars until fluffy. Stir in eggs and vanilla. Add dry ingredients and mix well. Add chocolate chips, pecans, and oats. Stir to combine. Roll dough into large marble-sized balls and place on an ungreased cookie sheet. Bake for 9 minutes, or until edges turn golden. Makes about 4 dozen.