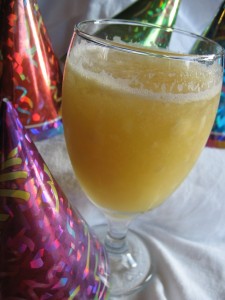 I can't believe it is already the second day of a brand new year! I remember this time last year so clearly, it is hard to imagine that a whole year has gone by. I also can't believe how long it has been since my last post! And it's not like I haven't been cooking. The light–or lack thereof–is truly to blame for the lack of posts. By the time I get anything made, it is already too dark for good pictures. And who wants to see ugly pictures of food!?
Anyway, I've been thinking about my family's holiday traditions lately, and surprisingly (not really), they all pretty much involve food. We eat certain foods at certains times of year, and usually ONLY at those times. On Christmas Eve we have clam chowder and other soups at Nana's, followed by a dessert of Raspberry Danish Dessert covered with cream, which is a stand-in for some Swedish dessert I can't spell or pronounce. On Christmas morning we usually have a breakfast casserole and sticky buns from my mom's neighbor Brandy. We always make the same cookies: molasses crinkles, peanut blossoms, russian tea cakes. And on New Year's Eve, we have slush and armenian meat pies. I wait all year for these two treats, and even though I could really make them whenever I wanted, it almost seems sacrilege to have them any time but the New Year.

I always cut the recipe in half, and it still takes us a while to get through it
.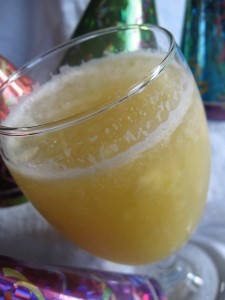 6 cups water
6 cups sugar
46 oz pineapple juice
46 oz orange or tangerine juice (or orange-tangerine)
8 oz frozen OJ concentrate
8 oz frozen lemonade concentrate
6-8 medium bananas, mashed
1 can crushed pineapple
Combine water and sugar in a large pot and boil until sugar is dissolved. Cool. Combine remaining ingredients. Pour into two 9×13″ pans and freeze overnight or until solid. Remove from freezer about 10 minutes before serving. Cut into good-sized chunks (it all depends on what cups you are using), put into glasses, and cover with ginger-ale or lemon-lime soda. Let sit for a few minutes, mash everything together with a spoon or fork, and drink!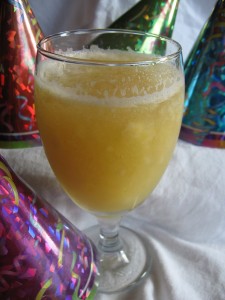 This recipe comes from my Nana's sister. My husband isn't crazy about them (translation: he won't eat them), so I half the recipe and eat them all by myself. If you use Rhodes Rolls, the entire recipe matches up with a 36-count package of frozen rolls quite nicely. Just thaw the rolls and let them rise like you're going to make dinner rolls.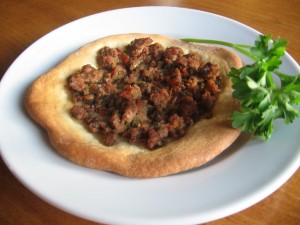 2 lbs ground beef, browned and drained
1 quart fresh tomatoes
1/2 bunch parsley
1 1/2 large green bell peppers
5 gloves garlic, minced
1 Tablespoon allspice
1 1/2 teaspoons salt
fresh bread dough or 1 package Rhodes Rolls
olive oil
Grind–but do not puree–tomatoes in a food processor. Do the same for the bell peppers and parsley. Combine all ingredients except bread dough and olive oil. Flatten bread dough into small rounds, about 5-6 inches across. You can roll them out into larger circles if you want, just be careful not to roll them too thin; you don't want crackers! Place a heaping Tablespoon of filling onto each piece of dough, spreading it almost to the edges. Place meat pies on a lightly greased baking sheet, drizzle with olive oil, and bake at 400 until dough is golden.