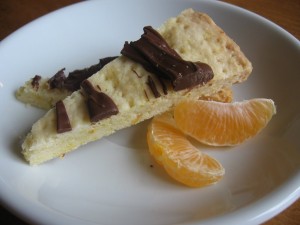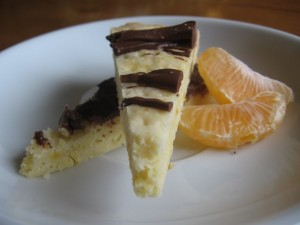 I'm a sucker for anything citrus. I really think it is the perfect flavor for all seasons. It tastes fresh and new in the spring, cool and refreshing in the summer, a bright and sparkling spot of sunshine in the gloom of fall and winter. And I especially love it paired with chocolate. I'm not a big fan of fruit and chocolate in general. Raspberry flavored chocolate treats make me want to gag, and I'll eat chocolate covered strawberries, but nothing more. But I think chocolate and orange taste so dreamy together!
I wasn't looking for a chocolate orange shortbread recipe, yet I managed to find two in the same week. This is the first. The shortbread turns out crumbly and tender and VERY buttery. It isn't super sweet, but it is very rich. It definitely needs to be accompanied by a big glass of milk.
Chocolate Orange Shortbread, part I
from someone's old blog here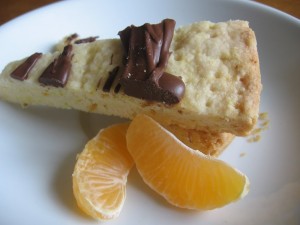 2 1/2 to 3 cups cake flour
3/4 cup powdered sugar
1 Tablespoon orange zest
1 teaspoon ground ginger
1/2 teaspoon salt
1 1/2 cups butter, softened
4 oz semi-sweet chocolate, chopped
1 teaspoon shortening
In a large bowl, combine flour, sugar, orange zest, ginger, and salt. Cut butter into small pieces and mix in by hand. Let dough rest 10 minutes, then divide into two equal portions. Pat each into the bottom of an ungreased 8″ round cake pan. Prick surface all over with a fork. Bake at 325 for 40 minutes until edges are golden. Immediately cut each pan into 16 wedges. Cool completely and remove from pan. Melt chocolate and shortening in the microwave, stirring frequently. You can dip the wedges in the chocolate or drizzle the chocolate onto the wedges. I drizzled the chocolate onto the wedges before I took them out of the pan, and I DO NOT recommend it! I had problems getting the wedges out of the pan without tearing the chocolate.