I can't post a recipe without a picture, but DON'T judge these cinnamon rolls based on their looks. They are, admittedly, not much to look at. I had my doubts when I pulled them out of the oven, but they are really, really good. And so easy. So easy! If you want warm, gooey cinnamon rolls for breakfast–or off and on all day long–but don't want to go through all the hassle of making them from scratch, this recipe is the one for you. Try it! You won't be disappointed, except in yourself for you lack of control when you eat 4 in one sitting!
Easy Overnight Cinnamon Rolls
from Christy's Kitchen Creations here
*A funny side note: the picture on the above blog is much better than mine, so really do check it out, but you'll notice that we apparently have the same cake plate to put our cinnamon rolls on. I wonder if she got her's at TJ Maxx???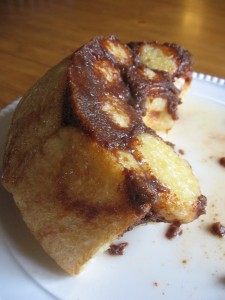 20 frozen dough rolls (like Rhode's)
1/2 cup brown sugar
1/2 small box butterscotch pudding mix
2 teaspoons cinnamon
1/2 cup butter, melted
milk
powdered sugar
vanilla
Grease a 10-inch Bundt pan. I couldn't find mine, so I used a tube pan (Angel Food cake pan), and the butter leaked out all over my oven, so I don't recommend that! Add frozen rolls. In a small bowl, mix brown sugar, pudding mix, and cinnamon, and sprinkle over rolls. Pour melted butter over all. Cover with clean, damp cloth. Leave on counter overnight. Bake at 325 for 25 minutes. Let cool 5 minutes, then turn out onto a platter. Meanwhile, combine milk, powdered sugar, and vanilla to make a glaze, then drizzle over the cooling rolls.