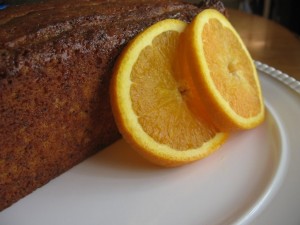 This week's recipe for Whole Orange-Poppy Seed Cake from The Sweet Melissa Baking Book was chosen by me! I had a really hard time deciding on a recipe, and even chose a different one first. But I just kept thinking about this cake and eventually changed my pick. I was intrigued by the concept of using the entire orange; peel, pith, and all! I thought it would have a slight bitterness to it, but that wasn't the case at all; you would never know that it had the peel of an entire orange in it! It could not have been easier and tasted absolutely delicious. I am a fan of lemon poppy seed cake, but I really enjoyed the orange flavor of this one. It was a very refreshing change of pace, and one I would welcome again and again!
Whole Orange-Poppy Seed Cake
from The Sweet Melissa Baking Book by Melissa Murphy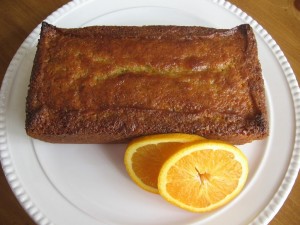 for the cake:
1 whole orange, well washed
1 cup sugar
3 large eggs
12 Tablespoons unsalted butter, melted
1 1/2 cups all-purpose flour
2 1/4 teaspoons baking powder
3/4 teaspoon kosher salt
1 Tablespoon poppy seeds
for the glaze:
2 Tablespoons fresh orange juice
2 Tablespoons fresh lemon juice
1/4 cup sugar
Position a rack in the center of your oven. Preheat the oven to 350 degrees. Lightly butter and flour a 1 1/2-quart loaf pan. Using a sharp knife, remove the little green stem from the orange skin. Cut the orange into 8 pieces. In the bowl of a food processor fitted with the metal blade, pulse the orange pieces (skin and all!) and 1/2 cup of the sugar until pureed, scraping down the sides of the bowl as needed, so that no large orange skin pieces remain. In a large mixing bowl, whisk together the eggs and the remaining 1/2 cup sugar until smooth. Stir in the orange pulp. whisk in the melted butter to combine. In a separate bowl, whisk together the flour, baking powder, salt, and poppy seeds to combine. Sprinkle over the orange mixture and, using a rubber spatula, gently fold until just combined. Pour the batter into the prepared loaf pan. Bake for 50 to 60 minutes, rotating the pan halfway through baking. The cake is done when a wooden skewer inserted intot eh center comes out clean. Remove to a wire rack and cool for 20 minutes before unmolding the cake onto the rack for glazing. In a small saucepan, combine the orange juice, lemon juice, and sguar at a high simmer. Simmer for 2 to 3 minutes, or until reduced by half. Using a pastry brush, brush the hot glaze all over the cake while it is still warm.
**There is also a lemon variation, but for that, you'll have to buy the book!**