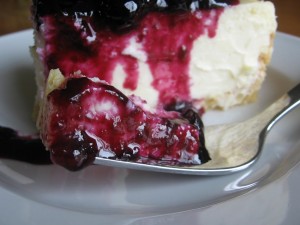 Last week's recipe from the Sweet Melissa Baking Book was chosen by Eliana of A Chica Bakes. I'm so glad she chose this recipe! My week to choose our recipe is coming up, and I had a really hard time choosing which delicious baked good to try. I originally chose this one, and then decided against it, then felt guilty about switching, so I was thrilled when Eliana chose it! I like cheesecake a lot, but I don't luuuurve it. And I merely tolerate blueberries. Yet somehow, this recipe spoke to me. I received the Sweet Melissa Baking Book for Christmas last year, and this is one of the first recipes I drooled over. I was going to make it for a baby shower, but then it turned out that tons of people were bringing desserts, so I brought paper cups or something. Then, when I got home from the grocery store this week, I realized that I hadn't picked up any cream cheese! I bought the blueberries, I bought the mascarpone, but spaced the cream cheese. And I can really only make one trip to the grocery store a week. Anyway, better late than never!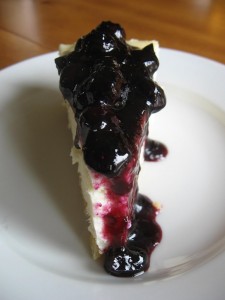 This cheesecake is amazing. The flavors are incredible: the lemon is very present, but not overpowering; the blueberries are sweet and subtle; the crust is buttery. The textures are superb: the cheesecake is super smooth, creamy, and dense, not at all airy and crumbley like some cheesecakes; the cornmeal keeps the crust from getting even the least bit soggy. I would definitely make this again. Melissa Murphy has created yet another stellar dessert!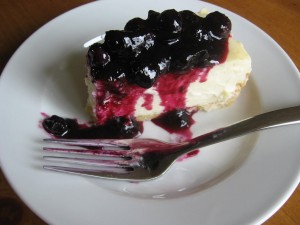 If you'd like the recipe, Eliana has graciously posted it on her blog. Or you could get yourself a copy of this amazing cookbook!