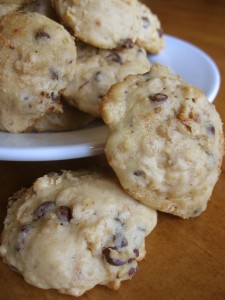 Cookbooks for children are funny things. I find that the majority of them fall into two equally awful categories: the food looks like something a child could easily make but that no one in their right mind would eat, or the food is super cute but requires tons of work from the parent to puree 10 different sauces to create a painter's palette of fruit and veggie dips or to cut out sails from patterned paper and thread them onto toothpicks to insert into your carefully crafted chicken salad boats (and yes, those were specific references). As the parent of a child who loves to cook, I want recipes that look delicious, don't take hours, and actually allow my child to do most of the work.
So, here at Lulu the Baker, we will be doing a series of children's cookbook reviews! Up first is The Disney Magic Kitchen Cookbook. We bought this book on one of our semi-weekly trips to the craft store. My daughter loves the Disney/Pixar movies, so Lightning McQueen, Woody, Sulley, Mike Wisowsky, and Ratatouille on the cover captured her attention immediately and she plunked herself down in the middle of the aisle and started reading.



Good Things:
-Disney has made a real effort to make the recipes healthy. Any bread product called for is whole grain, dairy products are all low-fat, and each recipe comes with nutritional info.
-The pictures look nice and the food looks appetizing (for the most part).
-We've made only 3 recipes from this so far, but all were good. The chocolate chip cookies were exceptionally tasty.
-The directions are great. Very clear, very detailed.
-The cookbook also has excercise ideas and fun food trivia on each page.
-Each recipe also includes a list of utensils to be used while preparing that dish.
Bad Things:
-My little chef is quite young, so this probably wouldn't bother the parent of an older child. The book doesn't distinguish between which parts of the recipe should be done by the child and which should be done by an adult. Not a big deal; any grown-up worth their salt can just use common sense to figure that one out, but it'd be nice if it said, "Get a grown-up to help you put the baking sheet in the oven," or something like that.
-Lots of recipes call for bottled dressing, pre-cooked chicken, cake mixes, canned chili, etc. But again, asking a 6-year-old to bake a cake from scratch probably wouldn't work!
-As an adult, I find the pages really bright, busy, and kind of overloaded, but my kids LOVE it.
-A few of the recipes look barfy, but only a few, which I think is pretty good for a children's cookbook.
Overall: I think this cookbook is great for little kids who want to start helping out in the kitchen. The recipes are easy, fairly healthy, and actually look appetizing. Older kids who are interested in cooking can probably find a better book out there, but for small children, this one is great.
Disappearing Chocolate Chip Cookies
from The Disney Magic Kitchen Cookbook
I was kind of curious as to how these cookies would turn out. They were delicious right out of the oven and really good the next day too. They are the texture of pumpkin cookies: light and cakey.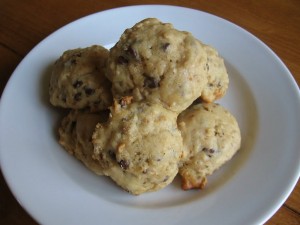 1 cup rolled oats
1/2 cup butter, softened
1 cup packed brown sugar
1 teaspoon baking soda
1/4 teaspoon salt
1 cup plain low-fat yogurt
2 eggs
1 teaspoon vanilla
2 1/2 cups AP flour
1 cup mini chocolate chips
Preheat oven to 375. Put oats on a cookie sheet and bake 10 minutes or until toasted. Remove from oven, pour into a blender or food processor, and grind. Set aside. Beat butter in a large mixing bowl for 30 seconds. Add brown sugar, baking soda, and salt. Beat until combined. Add yogurt, eggs, and vanilla and beat until combined. Add flour, oats, and chocolate chips, stirring between each ingredient. Drop by rounded teaspoon onto ungreased cookie sheets and bake at 375 degrees for 9 minutes. Remove from oven; cool on a wire rack. Makes a whopping 60 cookies, no joke!