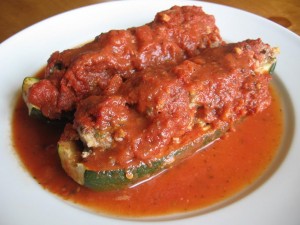 One of the things I wonder during the summer is how in the world people let their zucchini get so big! I've seen friends with 2-foot-long monster squash that somehow hid in their garden, undetected, apparently for weeks. We have never had that problem. Quite the opposite, in fact. No matter what we do, our zucchini fail to thrive. We started the gardening season so hopeful this year. Our two little zucchini plants grew and bloomed, and each had the beginnings of half a dozen zucchini on it. We harvested three small zucchini before our plants took a turn for the worse. Despite our TLC, despite our daily watering, despite our pleas, the little fruits turn a sickly shade of yellow, shrivel up and die, and the leaves turn brown. Needless to say, we had to resort to store-bought zucchini when we made this delicious recipe. But I hope that someday we'll be one of those families putting a basket of ginormous zucchini on the corner with a sign that reads, "Free Zucchini. Please take some!"
Italian-Style Stuffed Zucchini
Not the best-looking dish, but one of the tastiest ways to eat zucchini!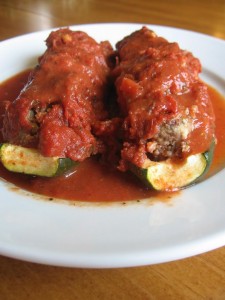 4 zucchini (think grocery-store sized), trimmed, halved, and seeded
1 lb lean ground beef
1 egg
1/2 cup italian-style bread crumbs
1/4 cup shredded parmesan cheese
1/2 teaspoon onion powder
1/2 head roasted garlic (you could easily substitute an equal amount of minced garlic)
salt and pepper
1 24-oz jar tomato-based pasta sauce
Combine beef, egg, bread crumbs, cheese, onion powder, and garlic. Scoop meat mixture into zucchini shells. Lightly spray a 9×13 baking dish with non-stick cooking spray, and place stuffed zucchini into pan. Sprinkle with salt and pepper. Top with pasta sauce. Bake, uncovered, for 40 minutes at 350 degrees.