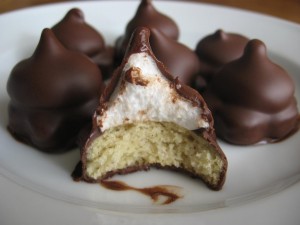 Summer is supposed to be relaxing, right? Maybe I just look at past summers through rose-colored glasses, but this summer has been the busiest one on record! Family reunions, summer festivals, out-of-town visitors, trips to the city; I'm amazed I've had time to cook anything! This week's Sweet Melissa Sundays recipe was chosen by Margot of Effort to Deliciousness. She chose Strawberry-Ruby Grapefruit Preserves, which I happened to make a few months ago! I was excited to make these preserves because, while I've made lots of jam, I've never made it from scratch. I've always used liquid pectin, but in this recipe, we used granny smith apples! It was awesome! And the combination of strawberry and grapefruit made my whole house smell like a candy factory! I do have to say that liquid pectin makes a nice, smooth jam, and cooks up a lot faster. But if we ever have to go back to pioneer times, now I know what to do! You can find the recipe on Margot's site here.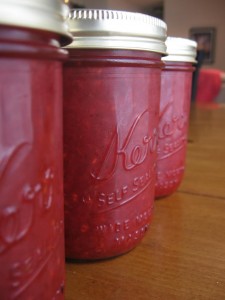 On to Daring Bakers. I must admit that I was not excited about this month's challenge: homemade versions of store-bought cookies. I prefer homemade cookies anyway, so why would I want to make a store-bought cookie knock-off? But I digress. I chose to make the mallows because they sounded easy (wrong!) and tasty (sort of wrong!). The recipe has three parts: a slightly sweet, slightly cinnamon-y cracker-type cookie base with homemade marshmallow piped on top, all covered in chocolate. I thought this recipe would be a breeze, but I hit several roads blocks right off the bat. The dough needed to be rolled ultra thin and cut into little circles, but the dough was so sticky–even after chilling and much extra flour–that I had to scrap my first few attempts. The recipe also said it made 2 dozen cookies, which is exactly what I needed, but it made 200! But the cookies were actually really tasty, and I fed lots of the extras to my kids. That's actually the part of the recipe I would make again, if I were inclined to make homemade crackers. On to the marshmallow!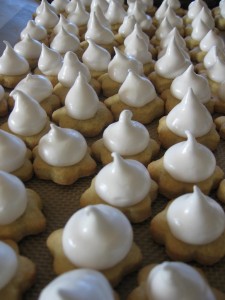 This was my first time with it, and probably my last! I love store-bought marshmallows, so I'm pretty good just sticking with them. I thought the directions could have said something like, "Watch out! This stuff will harden super quickly when you take it off the heat, so work quickly!" I had to find this out the hard way. About half-way through piping the marshmallow onto the cookies, the little "kisses" of marshmallow started to look like a mess.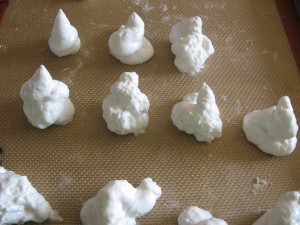 Plus, I'm not big on meringue or divinity or anything egg white-y, and that's what the homemade marshmallow tasted like to me. Lastly, the chocolate glaze was a cinch (thank goodness!), but it was almost 100 the day I made these and they were a liquidy mess unless refrigerated. They basically had to go straight from fridge to mouth, otherwise there was chocolate everywhere. Oh well, better luck next month! It is well past midnight as I type this post, just in case anyone is wondering why it's so negative! 🙂 And should you want the recipe, just click here!
The July Daring Bakers' Challenge was hosted by Nicole at Sweet Tooth. She chose Chocolate Covered Marshmallow Cookies and Milan Cookies from pastry chef Gale Gand of the Food Network.