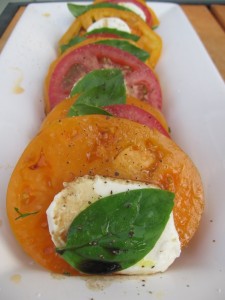 For a couple of years now, a few friends and I have been floating the idea that we wanted to started a dinner club. Something small, something intimate, that just a few friends who truly love to cook would be involved in. In July, we finally said, "Enough Waiting!" and got organized. Annie hosted our first "meeting" on Friday, July 31st, in her lovely backyard at the end of one of the worst heat waves our area has seen in many years. She has spent lots of time (lucky girl!) in various parts of Europe, and decided to try and recreate an insane, multi-course meal she had in Italy at some point.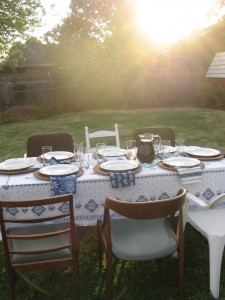 grilled bruschetta with green olive tapenade, olive oil, and some kind of delicious, homemade tomato stuff
oven-roasted eggplant and tomato stacks with fontina cheese
casatiellini with rosette de lyon fiore salami and natural, unsmoked provolone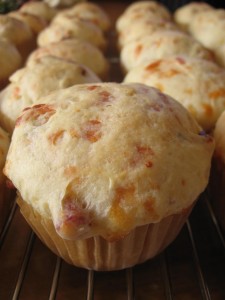 caprese salad with red and yellow tomatoes, fresh mozarella and basil, olive oil, balsamic vinegar, salt and pepper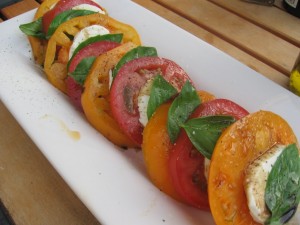 risotto con fagioli–a creamy risotto featuring fresh tomatoes and basil, lots of parmigiano reggiano cheese, and cannellini beans
pasta fresca with fresh tomato sauce, basil, and mozarella
gnocchi with browned butter and sage
basil-mint sorbet made with liquid nitrogen!
pork loin stuffed with savory ground pork and fennel
poached pears stuffed with sweetened mascarpone cheese and crushed coconut macaroons, served with homemade caramel sauce and cornmeal biscotti
Homemade grape juice (I'm not a grape juice fan, but this was so superior to bottled juice!)
If it sounds amazing, it was! We haven't decided what to do for August yet, but I can't wait to find out!
I was in charge of the casatiellini and the risotto. I used Peter Reinhart's recipe for casatiello from The Bread Baker's Apprentice. As many other people have mentioned, this soft, savory brioche is easy and so delicious. My risotto recipe is one I read in Cooking Light (maybe?) many, many years ago and have made lots of times. I was just going to link to the recipe on their website, but I can't find it, so I'm going to go ahead and post it! It is delicious and easy, and actually kind of light and summery. Unfortunately, the party wasn't at my house, and the risotto wasn't the first course, so I felt a little like Jeffrey Saad on The Next Food Network Star serving a gluey, subpar risotto. Oh well! If Jeffrey can do it, so can I!
Risotto Con Fagioli
from Cooking Light, some edition from the late 90's
1 1/2 cups arborio rice (or any medium-grain rice)
2 teaspoons butter
1 Tablespoon olive oil
2 14-oz cans low-sodium chicken broth
1 cup water
1/2 cup finely chopped onion
1 cup cooked cannellini beans
1/4 cup grated parmesan cheese
2 plum tomatoes, diced
2 Tablespoons fresh basil, chopped
2 Tablespoons fresh parsley, chopped
dash freshly ground black pepper
salt to taste
Heat oil and butter in a large, heavy-bottomed skillet or Dutch oven. Add onion and cook for 1 to 2 minutes or until just tender. Add rice and cook and stir for 2 minutes more. Bring the broth and water to boiling in a medium saucepan. Add 1/2 cup broth mixture to the rice mixture, stirring constantly over low heat, until rice has absorbed most of the liquid. Continue adding the broth mixture, 1/2 cup at a time, stirring constantly until rice is almost tender, but firm to the bite. This should take about 20 to 25 minutes. During the cooking, adjust the heat as necessary to keep broth at a gentle simmer. Stir in beans, tomatoes, cheese, basil, parsley, salt and pepper. Cover and let stand 5 minutes. Serve immediately! The recipe says it serves 4 to 6. These are big servings!!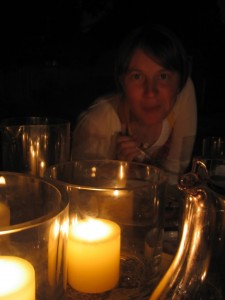 Thanks Annie!!