Wow! Today is momentous on three levels. First, we have a great Sweet Melissa recipe for the week, Double Dark Chocolate Cherry Cookies, which you can find by clicking here.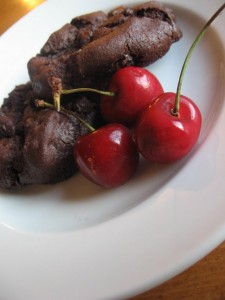 Second, we have a great Daring Bakers recipe for the month, Half Blackberry-Half Chunky Applesauce Bakewell Tart, which you can find by clicking here.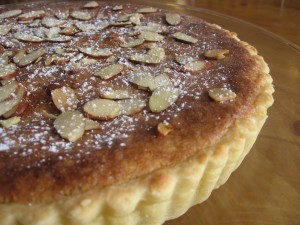 And third, it was one year ago today that I wrote my first post for Lulu the Baker! Wow. And my 100th post is just around the corner (as in, this post makes #96). If I had planned it just a little better, they could have coincided, but I'm not that organized. I actually am really organized, but not in this case!
In honor of my 1 year anniversary and my looming 100th post, Lulu the Baker is having a give-away. And boy, is it fantastic. I put together a lovely little bunch of things that I would love to get, so I hope you will too! The lucky winner of our give-away will win:
the latest–and, I believe, inaugural–issue of Mixing Bowl, the new all-cooking-all-the-time publication from Better Homes and Gardens
a package of King Arthur Flour Lemon Poppy Seed Muffin Mix, which I'm having a hard time parting with 🙂
a cute, magnetic list-makin' note pad featuring an oven mitt and tea kettle
a Wilton 9-inch angled spatula, for all your spreadin' needs
a Wilton mini Noah's Ark cookie cutter set
350 white mini baking cups (also from Wilton, so you can tell I went shopping at Michael's)
25 clear cellophane bags for treats
35 adorable Martha Stewart labels for said treat bags
a spool of brown and white striped baker's twine to finish off the treat bags
2 really cute (if I do say so myself) kitchen towels, embellished by yours truly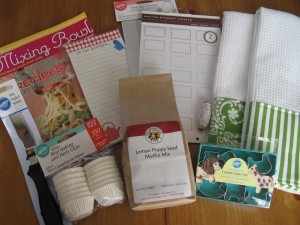 Phew! That took ages to type, and one of you lucky readers can win it all! Just leave me a comment below. And tell your friends! You don't have to blog about it or anything (although I certainly won't stop you from doing so); just spread the word! I will randomly choose a winner on Monday, July 6th!