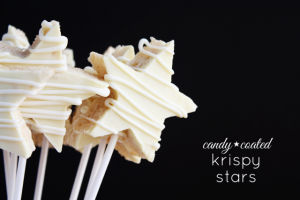 When Sara asked me to participate in the Star Gazing Party for The Party Hop, these cute Candy-Coated Krispy Stars immediately popped into my head! I love a good Rice Krispy Treat, and one of the best things about them is how versatile they are. I wanted my stars to be covered in white candy, but you could just as easily cut them into different shapes and use different colors of candy melts to match any holiday or party! As simple as they look (and they really are easy to make), it took me several tries to get the ingredients and method just perfect, and my family was beyond thrilled to eat all of my mistakes!
Candy-Coated Krispy Stars
makes 12 3-inch stars with lots of in-between pieces for snacking
In the interest of full disclosure, the stars in my pictures were made with a layer of white chocolate. It tasted good, but not any better than the ones I made with a layer of candy melts, and the white chocolate was far harder to work with and was really messy. So save yourself the headache and just use the candy melts!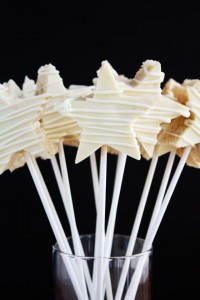 4 Tablespoons butter
1 10-oz bag mini marshmallows
6 cups Rice Krispies
2 12-oz bags white Candy Melts
12″ lollipop sticks
In a medium saucepan over high heat, melt butter on the stove-top. Add mallows and stir until melted. Remove from heat. Add cereal and stir until evenly coated. With damp hands, press the mixture into a greased 9×13″ pan; set aside. In the microwave, melt 16 oz Candy Melts following the instructions on the package. Spread melted candy evenly on top of Rice Krispy Treats. Tap gently on a table or flat surface to even out the top. Allow to harden completely. Use a 3-inch cookie cutter to cut out 12 stars. To get the rice krispy treats out of the cookie cutter, gently push the treats up from the bottom; this leaves the top much cleaner than if you push down on them. Lay the stars on a cookie sheet covered with foil. Melt another 2 oz of Candy Melts. Dip the end of a 12″ lollipop stick in candy, then carefully push the end of the stick into a star. Repeat until all stars are on a stick. Scoop leftover melted candy into a quart-sized freezer ziplock bag, use scissors to snip a tiny bit off one of the bottom corners of the bag, and drizzle the remaining candy onto the stars. If you want to, you can make your drizzles a different color than the main layer of candy.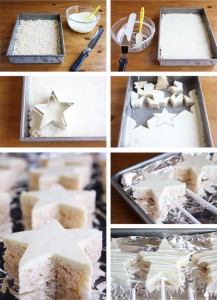 – – – – –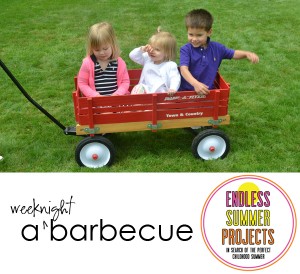 Because today is Wednesday, that means there's another post in the Endless Summer Projects series for you to check out! This week, Alexandra Hedin shows you how to do a fun, family-friendly weeknight barbecue! And in case you missed last week's project, you can find instructions on how to make mosaic stepping stones with your kids by clicking HERE. Next week, MJ from Pars Caeli has something fun in the works for you, so stay tuned…