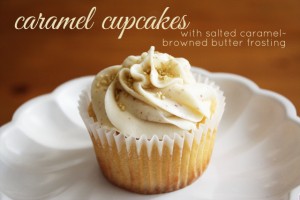 I started Lulu the Baker over 4 years ago so that I could participate in the Daring Bakers, a huge, worldwide, online baking group that attempts crazy and complicated recipes on a monthly basis. This recipe is one of the first I baked along to, and it is still one of my favorites. The cupcakes are yummy, with a mild flavor and denser, heftier body than most cupcakes. But the real star of the show is the frosting. Made with homemade caramel syrup and gently cooked brown butter, it has a double dose of rich nuttiness. It makes me swoon just thinking about it–and I'm not the only one! I get asked to make these Caramel Cupcakes with the swoon-worthy frosting every year for our school district fundraiser, and apparently, this year's emcee couldn't quit raving. I'm telling you–people go crazy for them!
Caramel Cupcakes with Salted Caramel-Browned Butter Frosting
adapted from a recipe by Shuna Fish Lydon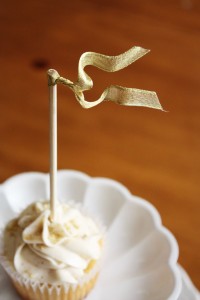 for the caramel syrup:
2 cups granulated sugar
1/2 cup water, plus 1 cup for stopping the caramelization process
for the cupcakes:
10 Tablespoons unsalted butter, at room temperature
1 1/4 cups granulated sugar
1/2 teaspoon kosher salt
1/3 cup caramel syrup
a splash of vanilla
2 eggs, at room temperature
2 cups flour
1/2 teaspoon baking powder
1 cup milk, at room temperature
for the frosting:
12 Tablespoons unsalted butter
1 lb powdered sugar
4-6 Tablespoons heavy cream
2-4 Tablespoons caramel syrup
2 teaspoons vanilla
a pinch of salt
To make the caramel syrup, combine sugar and 1/2 cup water in a small, heavy saucepan with tall sides. Cook over high heat until sugar dissolves and mixture comes to a boil. Allow to boil until the sugar is a lovely amber or honey color. Turn off the heat and carefully add the remaining cup of water. It will sputter like crazy, so wear long sleeves and stand back! When it has stopped sputtering, return to medium heat and stir until smooth. Continue to cook until the mixture has thickened slightly. You can tell it is ready by scooping some up with a spoon, blowing on it until it is cool, and rubbing it between your fingers. It will be sticky. Set aside to cool.
To make the cupcakes, preheat the oven to 350°F and line 18 cupcake tins with paper liners. Combine butter and sugar in the bowl of a stand mixer and beat until fluffy. Add salt, caramel syrup, and vanilla and beat until smooth. Add eggs one at a time, stirring between additions and scraping down the sides of the bowl as necessary. In a small bowl, combine flour and baking powder. With the mixer on low, add 1/3 of the dry ingredients and mix until just combined. Add half the milk. Continue alternating drying ingredients and milk until everything is added; mix until just combined. Divide batter among lined cupcake tins, and bake 18-23 minutes until a toothpick inserted in the center of a cupcake comes out clean. Allow cupcakes to cool completely before frosting.
To make the frosting, place butter in a small saucepan and cook over medium heat until lightly browned. This takes a long time, so you have to be patient! When the butter is browned, remove from heat a set aside to cool. You can strain the butter if you like, but my favorite thing about this frosting (aside from the out-of-this-world taste!) is the little brown flecks, so I choose to keep them. Pour cooled butter into the bowl of a stand mixer. With the mixer on low, begin adding powdered sugar. When the mixture looks too chunky to take any more sugar, add half of the cream, half of the caramel syrup, the vanilla, and the salt. Add the remaining sugar and beat on medium until smooth. Add more cream and more caramel syrup as desired until the frosting has a thick but spreadable consistency. Frost cooled cupcakes and enjoy!