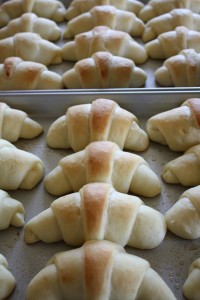 Our dear friends Jake and Annie host a holiday dinner every November/December. They stuff dozens of people–including kids!–into their cozy ranch-style home for amazing food, a little holiday singing, and a crazy white elephant gift swap (ask me about the Shaving Fun Barbie sometime). Despite the fact that it is always a potluck, the food manages to be amazing every year. For me, last year's highlights were the ham (which I haven't been able to duplicate) and the crescent rolls. These rolls were pillow-soft, flavorful, and buttery. I ate as many as I could, and then managed to bring a few of the extras home wrapped in a piece of saran wrap! And before I left, I hunted down the girl who had brought them and gave her my email address. She graciously sent me the recipe that very night.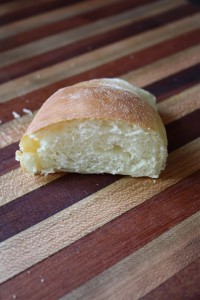 I don't usually make dinner rolls. I love to eat them, but I usually pawn the making of them off on someone else. These crescents, however, were really easy and supremely delicious. I actually doubled the batch and stuck several bags of them in my freezer. I can't tell you how nice it is to say, "And we'll have dinner rolls with that tonight."
Chelsea's Crescent Rolls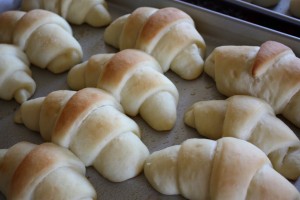 2 Tablespoons yeast
1/4 cup warm water
1/2 cup butter
1 cup hot water
2 teaspoons salt
1/2 cup sugar
3 eggs
4 1/2 cups flour
1 Tablespoon butter, melted
Dissolve yeast in warm water; set aside, 5 minutes. Melt 1/2 cup butter in hot water, then add yeast mixture, salt, sugar, and eggs; stir to combine. Stir in the flour 1 cup at a time. Cover the bowl with plastic wrap and refrigerate overnight (or at least 6 hours). Before removing the dough from the fridge, lightly grease two baking sheets; set aside. Remove bowl from fridge and scrape dough out onto a very well-floured surface. The dough will be very sticky; keep the counter heavily floured. Divide the dough in half. Working with one ball of dough at a time, and flouring as necessary, roll the ball out into a large circle, about 1/4″ thick. Brush 1/2 Tablespoon melted butter over the entire surface of the dough with a pastry brush. Using a pizza cutter, cut the dough into 12 slices. Starting at the wide end, roll each slice up. Place rolled slices on prepared cookie sheets. Repeat with remaining dough. Cover baking sheets loosely with lightly greased plastic wrap, and set in a warm spot to rise for 2-3 hours. Bake rolls in a 375-degree oven for about 12 minutes, until golden.