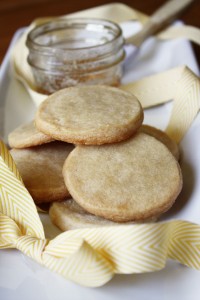 Last weekend, my husband and I harvested honey from two of the three beehives we keep at his parents' farm out in the country. And when I say "we" I mean he did all the work and I sat around in a golf cart taking pictures and staying a safe distance away from any angry bee action! The two hives we worked on were practically overflowing–by our estimate we got almost 80 pounds of beautiful, amber-colored wildflower honey. So I've been scouting out honey recipes to try using our bountiful harvest, and couldn't resist the idea of sweet, honey-scented cookies. Coincidentally, my kids were invited to a book party with friends this week. We had to bring a favorite book (The Berenstain Bears Go To School) and a matching treat. We brought these yummy, honey-flavored treats. Loaded with butter and brushed with golden honey, they were a big hit with both children and grown-ups, and I'm pretty sure the Berenstain Bears would have approved!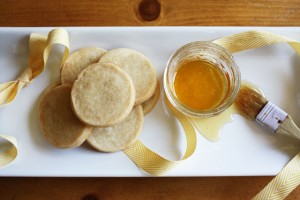 2 cups flour
2/3 cup sugar
1 teaspoon kosher salt
3/4 cup cold, unsalted butter, cut into chunks
3 Tablespoons honey, plus more for brushing
fleur de sel or other light, flaky salt (optional)
In the bowl of a food processor, combine flour, sugar, and salt. Add butter chunks and pulse lightly just until dough begins to form coarse crumbs. Add honey and pulse just until dough forms a ball. Wrap in plastic wrap and chill 30 minutes. Preheat oven to 325°F. On a lightly floured work surface, roll chilled dough to 1/4″ thickness. Cut cookies out using a 2″ round cookie cutter. Place on an ungreased cookie sheet, and bake for 15 minutes, until just beginning to turn golden at the edges. Remove from oven, brush reserved honey lightly across the top of each cookie, and cool. The honey should soak into the cookies as they cool. If you want a little extra saltiness to contrast with the sweetness in your cookies, you can sprinkle a tiny amount of fleur de sel on the top of each cookie after brushing it with honey.