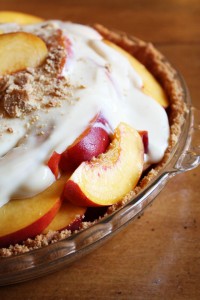 Sometimes the simplest things are the very best. The first summer that we lived here, my friend Annie brought this mouth-watering treat to a church pie contest, where it handily won the honor of crowd favorite, despite having a simple, 6-item ingredient list. The beauty of this sweet and easy pleaser is that those basic ingredients pack a wallop in the flavor department: a buttery, crumbly graham cracker crust with warm notes of vanilla and honey; a creamy, lemon-spiked topping that is at once both sweet and tangy; and nestled in between, a mile-high layer of fresh, juicy peaches bursting with the brightness of a summer afternoon.
Summer afternoon–Summer afternoon…the two most beautiful words in the English language.
Annie's Grandma's Fresh Peach Pie
Because there are so few ingredients in this delicious pie, it is imperative that you use the very best, tastiest, most flavorful peaches you can find. Great peaches make all the difference in life this pie.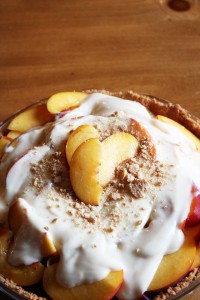 4 oz graham cracker crumbs (about 10 big, rectangular graham crackers, crushed), plus a few more for sprinkling
3 Tablespoons sugar
5 Tablespoons butter, melted
6-8 peaches, pitted and sliced thin
1 can sweetened condensed milk
1/4 cup fresh lemon juice
Preheat the oven to 350°F. Combine graham cracker crumbs, sugar, and melted butter in a medium bowl and stir to combine. Press mixture firmly in the bottom and up the sides of a 9″ pie plate. Bake for 7-10 minutes until golden and set. Set aside and allow to cool completely. When cooled, fill crust as high as you can with peach slices. In a medium bowl, whisk sweetened condensed milk and lemon juice until smooth. Pour over peach slices and, using a spatula, spread toward the edges. Top with a sprinkling of reserved graham cracker crumbs and a few peach slices. Serves 6-8, and it is a mess to serve, but a delight to eat!