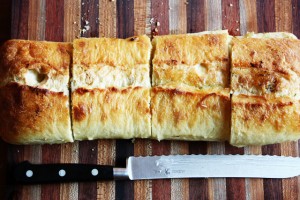 My parents moved out to the suburbs of Las Vegas when I was in college, and shortly thereafter, a new Costco opened up just a few miles down the road from their new house. That Costco carried this amazing ciabatta bread slathered in a savory roasted garlic butter spread. I've never seen it in any other Costco, and I've never been able to find a copy cat recipe online, or even any mention of it, which is crazy because it is the best garlic bread ever. I finally took matters into my own hands (after many years of doing nothing) and just made up my own recipe. Let's just say it was a success–you don't need to know how many pieces I ate, right?!
Grilled Ciabatta with Roasted Garlic
We grilled ours, but you could just as easily bake it in a 350°F oven until the butter is melted and the bread is heated through.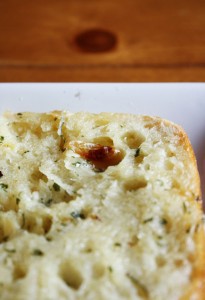 1 head garlic
olive oil
1/2 cup butter, softened
1/2 teaspoon dried parsley
2 Tablespoons shredded parmesan cheese
1 loaf ciabatta bread, about 1 lb
Cut the top off the head of garlic so that the bulbs are exposed. Place on a large piece of tin foil, drizzle with a little olive oil, and seal up the foil. Bake in a 400°F oven for 1 hour. Remove garlic from foil and set aside to cool. Combine softened butter, dried parsley, and parmesan cheese in a medium bowl. Add roasted garlic by squeezing the head of garlic over the bowl; the garlic cloves should pop right out. Stir butter mixture to combine. Cut the ciabatta bread in half like a giant hamburger bun; you should end up with a top piece and a bottom piece. Divide the butter mixture evenly between the two halves. Place each piece of bread butter side-up on a grill set to medium heat, and grill until butter is melted and bread is warmed through.