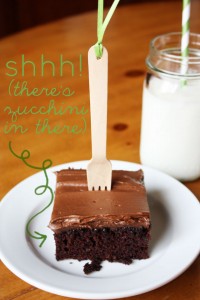 I know most people who plant zucchini in their garden have problems with too many zucchini, or zucchini that's huge, or, if they're really lucky, too many huge zucchini. But we can't get zucchini to grow in our backyard, so we almost never have to figure out what to do with all the extra zucchini that doesn't pop up in our garden beds. This summer is a little different because my mother-in-law is out of town for the entire month of August, and we've inherited an enormous zucchini patch–and all of its bounty–until she gets back in mid-September. Every day, my husband brings home more lovely, green ladies to toss onto the zucchini pile; luckily, I have a few stand-by recipes for occasions just such as this! The first recipe in my use-up-lots-of-zucchini arsenal is this moist, fudgy cake. You'd never know that it has two heaping cups of zucchini hidden in its chocolatey layers. And guess who gave me the recipe…my mother-in-law. I think this might have been her plan all along; I always knew she was an evil genius!
Fudgy Chocolate Zucchini Cake
from Momo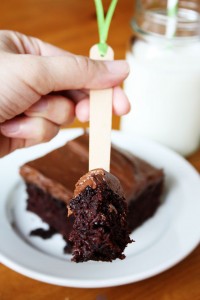 1/2 cup oil
1 1/2 cups sugar
2 teaspoons vanilla
1 large egg
1/2 cup milk
2 heaping cups peeled, shredded zucchini
2 cups flour
1/2 cup cocoa powder
1 1/2 teaspoons baking soda
1/2 teaspoon salt
Preheat oven to 350°F. Grease the bottom and sides of a 9×13″ baking dish. Combine oil, sugar, vanilla, egg, and milk in a large bowl. Fold in zucchini. Combine dry ingredients in a smaller bowl. Add dry ingredients to wet ingredients, beat until well-combined, and pour into prepared pan. Bake for 25-28 minutes, until the cake begins to pull away from the sides of the pan. Place cake on a cooling rack and allow to cool completely before frosting. Meanwhile, make a batch of yummy chocolate frosting, and spread it evenly over the cooled cake.