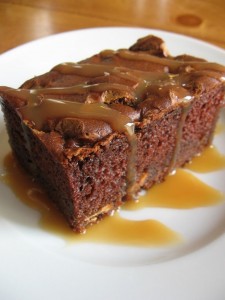 I don't really know where the name "Picnic Cake" came from; maybe because these cakes don't have frosting, you can take them on a picnic more easily??? My mom gave me this recipe last week and I was excited to make it and see how it would turn out. It was fantastic, and very customizable! We ate ours dressed up with whipped cream and caramel ice cream topping (the cake was dressed up, not us), but I ate a lot of it plain for breakfast, lunch, and the more-frequent-than-it-should-have-been snack. It is delicious either way!! My nana, who is nuts about nuts, sprinkles chopped nuts on hers, but we chose to leave them out. And you can bake it in a bundt pan or a 9×13 rectangular pan. Something for everyone!! The only problem–and we have tried several fixes without getting good results–is that the butterscotch chips sink to the bottom and form a strange, patchy crust. But my sister-in-law said that was her favorite part, so maybe it isn't a problem after all!
Chocolate Butterscotch Picnic Cake
from my Nana, via my mom 🙂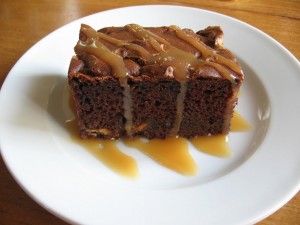 1 box Devil's Food cake mix
1 small box butterscotch pudding
1/2 cup oil
1 1/4 cups water
4 eggs
2 cups butterscotch chips
chopped nuts (optional)
whipped cream and caramel ice cream topping for garnish
Preheat oven to 350 degrees. Grease either a 9×13″ baking dish or a bundt pan. If you use a bundt pan, grease it REALLY well. Combine cake mix, pudding, oil, water, and eggs. Beat at medium speed for 2 minutes. Pour into prepared pan and sprinkle butterscotch chips and nuts on top. Bake for 45-50 minutes until a tootpick inserted in the center of the cake comes out mostly clean. This is a very moist cake, so the toothpick won't be bone dry, but you don't want it obviously underdone. Cool in the pan. If using a bundt pan, invert onto a serving plate. Garnish with whipped cream and caramel sauce (or not), and enjoy!!