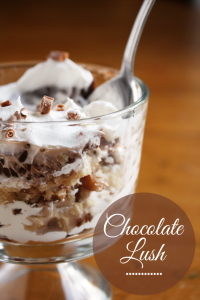 When I asked my friend Kristan if she had a recipe for Chocolate Lush, she laughed. "Yes," she said, "but I don't call it that. I call it Robert Redford." When I described this dessert to my sister, she said, "Oh, I've had that before, but it was called Tom Brady." The little teenage girls I served it to giggled when I told them it's many names; they decided to call it One Direction. My friend Sandi refers to it as George Michael, and I think Channing Tatum is a particularly tasty name for this delicious dessert! It has layers of buttery pecan shortbread, tangy sweetened cream cheese, rich chocolate pudding, and fluffy Cool Whip–and by any name, it is scrumptious!
from my friend Kristan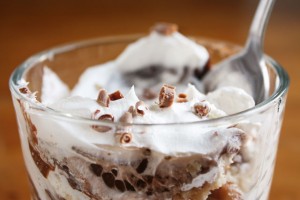 1 cup flour
1/2 cup butter, softened
1 cup chopped pecans
1 8-oz brick cream cheese, softened
1 cup sugar
1 16-oz tub Cool Whip
1 large box instant vanilla pudding
1 large box instant chocolate pudding
3 cups milk
1 milk chocolate candy bar for topping
Preheat the oven to 350°F. Beat flour, butter, and pecans until crumbly. Press mixture into the bottom of a 9×13″ pan, and bake 15 minutes. Remove from oven and allow to cool completely. When crust is cool, beat cream cheese and sugar in a medium bowl until smooth. Gently fold in half of the Cool Whip. Spread this mixture over the cooled crust. In a large bowl, combine both boxes of pudding with the milk, beating until smooth and thick, about 3 minutes. Spread this mixture over the cream cheese layer. Top with remaining Cool Whip. Chill for 2-3 hours before serving. Top with grated chocolate bar pieces just before serving. Makes 12+ servings.